Join Date: Oct 2007
Posts: 1,482
Submit Photo: 0
Photo Submissions 2 Times in 2 Posts
Going to see puppies....Wish me luck!!
---
My husband and I along with our college age daughter are headed up this afternoon to visit 2 breeders in the Indianapolis area. We'll see one this evening and one tomorrow.

To say I am excited is an understatement. I have a "feeling" about a certain puppy but am keeping an open mind. If it doesn't feel right we have Plan B and I am prepared to do that...wish me strength, lol! Puppies can tug at the heartstrings!

Anyway, I just wanted to thank all of you for such a warm welcome. You've been such a wealth of information and support and many of you have gone out of your way to help me. Thank you from the bottom of my heart.

I hope to post pictures tomorrow or Sunday!
Kubrick & Hitchcock's Mom
Join Date: Apr 2007
Location: New York, NY
Posts: 7,774
Submit Photo: 1
Photo Submissions 33 Times in 24 Posts
Good luck today Jan!!!
---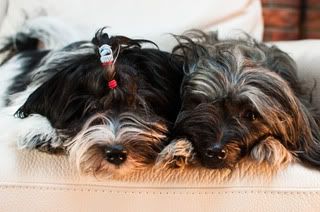 Visit
my blog

-----
Check out my
photos
-----
Photography (pets, people, weddings) -
TripleC Photography
Karen
Join Date: Nov 2006
Location: PA
Posts: 3,067
Submit Photo: 4
Photo Submissions 16 Times in 9 Posts
Best of luck! Two breeders, you could be in real trouble! I would want all of them I am sure. Your heart will certainly lead you in the right direction though. Keep us all posted on how it goes!
---
**Karen, Mom to Brady, Dugan, and Devon
Pablo&Chuy's momma
Join Date: Jul 2007
Location: Eden, NC
Posts: 4,286
Submit Photo: 11
Photo Submissions 9 Times in 8 Posts
Good luck Jan! I have no doubt you'll show us pics of your new pup this WE! Looking forward to it...
---
Mom of Brutus and Roxie
Join Date: Mar 2007
Location: Danville, CA
Posts: 2,152
Submit Photo: 0
Photo Submissions 0 Times in 0 Posts
Good luck, Jan, coming home with just one!!!
Amanda
Join Date: Nov 2006
Location: South Carolina
Posts: 9,576
Submit Photo: 2
Photo Submissions 31 Times in 22 Posts
Jan,
You could always take home one from each breeder
Good luck,
Amanda
Join Date: Oct 2007
Posts: 1,482
Submit Photo: 0
Photo Submissions 2 Times in 2 Posts
Ummm...2 puppies or one puppy and a husband? Hmmmm....I kind of like being married to my husband, lol! We'll give him a little time....

I'd leave now but am waiting for my DD to get home from St Louis....she goes to college there. No way was she going to let us go alone :-)

I swear I don't remember being this excited and nervous even when I was pregnant!
Mom to Ricky and Sammy
Join Date: Jan 2007
Posts: 10,319
Submit Photo: 30
Photo Submissions 21 Times in 17 Posts
OOOOOooooooooo, it IS exciting ! Even for us and we aren't the ones getting a new pup!
Jan, I'm sure you'll pick just the right one for your family. It will be hard to choose, but you and hubby will do just fine. I can't blame your DD for wanting to be there! lol
Are you bringing the pup back with you, or just visiting them?
Can't wait to hear more!!
---
Hello. My name is marj and I have MHS.
"The greatness of a nation and its moral progress can be judged by the way its animals are treated." Mahatma Gandhi
"Come to the edge, he said. They said: We are afraid. Come to the edge, he said. They came. He pushed them and they flew." -Guillaume Apollinaire"
Senior Member
Join Date: Nov 2006
Location: New Jersey
Posts: 9,794
Submit Photo: 2
Photo Submissions 28 Times in 20 Posts
Oh jan, I am jealous!! How fun for you! My brother lives in Francisco, IN , very close to Evansville
---
Lily, Lexi ,Logan, Laila & Lizzie's Mom
www.HillsboroughHavanese.com
(Gigi, Lucas, Dugan, Madeline,Reo,Alvin, Lucky, Lukey, Punch, Colby & Ben-(we will always Love you!!)
My Dogs Mom
Join Date: Aug 2007
Location: Carlsbad, Ca
Posts: 3,476
Submit Photo: 2
Photo Submissions 13 Times in 11 Posts
How exciting! Can't wait to see pictures!
Carole
Posting Rules

You may not post new threads

You may not post replies

You may not post attachments

You may not edit your posts

---

HTML code is Off

---