Join Date: Oct 2007
Posts: 1,482
Submit Photo: 0
Photo Submissions 2 Times in 2 Posts
Help...need advice!
---
OK, so Tessa is home and we're seeing some behavior that has us concerned. Maybe some of you can give us some insight as to whether this is normal or something to be concerned about.

She seems to be very, very shy and timid. OK, so this is all new to her and I understand why she may be intimidated at first. However, at times she will run away or back up if we come close. She's even hid under the table. Once she even cowered when we reached for her even though we were in a kneeling position. We're don't bend down from a standing height so it's not that we're looking like giants. I know she wasn't abused; she was well-treated. She doesn't greet anyone with what I thought was a typical friendly outgoing Hav personality. She will at times show us some excitement and kiss us. She will snuggle up on my shoulder, lap, or beside me. Other times she acts scared to death of us. We haven't done any corrections or given her a reason to be scared.

I took her to the vet this morning and she showed no response to anyone there. No fear but not even a tail wag when they spoke to her. Same thing when a friend and her son stopped by yesterday. We kept things quiet and they sat on the floor but she never did warm up to them. I think they left wondering what the heck kind of puppy is that...she wasn't even playing, just laying on the floor. Where is the typical 'everyone is a friend" personality?

She's playing a little but not much, kind of lackluster. She'll play a couple minutes, then go lie down

Has anyone else seen this when they first brought their puppy home and did they come out of it? Should I be concerned? She's nearly 4 mo old so did she miss some socialization not coming to us sooner? Is she depressed about leaving her home? We got our Sheltie at 4 months and I never saw this behavior, not even when we first brought her home...she loved everyone from the first.

I spoke to our breeder and she said to give it a few days and if it doesn't get better we have a problem. I know she will do whatever is needed to make things right.

I feel sick. Any advice or hope here?
Mom to Dusty and Indie
Join Date: Oct 2006
Location: AZ
Posts: 1,181
Submit Photo: 1
Photo Submissions 4 Times in 4 Posts
Dusty was seven months when we brought her home. She literally ran from my husband for several days. She would follow me around, but didn't want much to do with the kids, and definitely not my husband. We didn't see this the very first day, but after about 24 hours, it surfaced. I think she was just stressed at the change. It did not last and now she loves my husband and kids and our friends. She is a little on the shy side with strangers, but I'll emphasize the little in that. I think your breeder is right. Give it a few days. Give her lots of treats, sit with your back to her and read a book or something and let her come to you and investigate and get comfortable with her new surroundings. I bet some other people here will have good suggestions for you also.

There's a book called "How to Raise a Puppy You Can Live With" that talks about developmental stages for a puppy and might help you also.
Brush Anyone??
Join Date: May 2007
Location: Indiana
Posts: 983
Submit Photo: 0
Photo Submissions 7 Times in 5 Posts
Big [[[[[[[[[[HUGS]]]]]]]]]] Jan...
---
well you said she was sick on the way home...perhaps she's just not feeling well yet. I would give it a few days and I'm sure others will post. We didn't pick Winston up until he was 14 weeks so I relate there.

Keep us posted. Perhaps offer lots of little treats for coming to you...teach her that it's a good thing...also have people give her treats when they come to the door so she learns seeing people = good.

Good luck.
---
Winston's Mom, Trish
Kimberly
Join Date: Aug 2006
Location: San Francisco Bay Area
Posts: 10,275
Submit Photo: 5
Photo Submissions 19 Times in 13 Posts
Try not to worry, but more than that, don't cater to that behavior. If she backs away from you, don't bend over and start talking baby talk, which is the mistake most people make, but turn your back instead. She will probably come around in just a couple of days. When she gets a little more comfortable and realizes that she is now home, then you can start encouraging her to seek out new things. For now, just try to get her to be a little more confident in her surroundings.

Ignore the timid behavior and encourage boldness.

I haven't had to do this yet, so I can't tell you how to do it via type, but if you can find someone who can teach you how to teach her the "go see" command (basically, it is a reward for her going to investigate whatever you point out for her). This would be something to do after she is less timid in her own home, but also a confidence builder for outside the house.
Senior Member
Join Date: Apr 2007
Location: FLORIDA!
Posts: 4,657
Submit Photo: 1
Photo Submissions 3 Times in 3 Posts
Quote:

I feel sick. Any advice or hope here?
What did the breeder say was the result of the Volhard puppy aptitude test? What were her numbers?
---
Jan
jashavanese.net
Kubrick & Hitchcock's Mom
Join Date: Apr 2007
Location: New York, NY
Posts: 7,774
Submit Photo: 1
Photo Submissions 33 Times in 24 Posts
I'm sorry that Tessa isn't becoming accustomed to her home as quickly as we hoped she would! Wait a couple of days and see if she will feel better soon. Kubrick has always been an attention hog and very much in love with humans so I didn't have this particular problem. However, I have read that sometimes you have to show the dog that humans mean good things, like food. Use food rewards when you pet her, when you bend down suddenly to her, anything that might seem threatening. It's hard because she's little and is probably just afraid. Good luck and hang in there!
---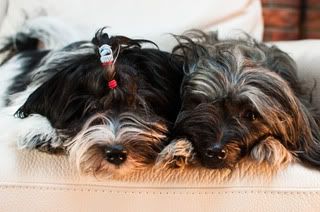 Visit
my blog

-----
Check out my
photos
-----
Photography (pets, people, weddings) -
TripleC Photography
Kubrick & Hitchcock's Mom
Join Date: Apr 2007
Location: New York, NY
Posts: 7,774
Submit Photo: 1
Photo Submissions 33 Times in 24 Posts
I also wanted to add that I agree with Kimberly and you shouldn't baby talk her when she's scared since it reinforces the behavior. Only reward her for good (non-shy) behavior.
---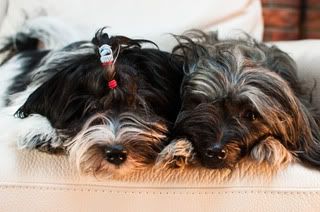 Visit
my blog

-----
Check out my
photos
-----
Photography (pets, people, weddings) -
TripleC Photography
Amanda
Join Date: Nov 2006
Location: South Carolina
Posts: 9,576
Submit Photo: 2
Photo Submissions 31 Times in 22 Posts
Dora was also very timid and I got her at an older age (5 months) as well. As to her breeder, she is a nice person but she has too many dogs to honestly socialize them properly and she lives alone and raises horses as well. While we fell in love with Dora, we should have probably found a better socialized dog but I didn't know better at the time and as my husband says, I would have probably taken her home with one eye and 3 legs. It has been a long journey to have her become the dog she is. I probably had her at the training club being socialized at least 3-4 nights a week and now today she is fine but she still isn't crazy about being loved by strangers like my maltese.

I think one of the best things you can do- see if she is interested in food. I learned the power of luring from a 4 year old! Her mom is a dog trainer and she fell in love with Dora. While Dora isn't nearly as outgoing as Belle, Leila made Dora come to her as forcing a timid and shy dog is not the way to go. Leila took a treat and within 10 minutes, had Dora following her all over the place. When Dora started to lose interest, Leila would drop her hand and let Dora have a small piece of the chicken. That would get Dora near her side and following her again. After awhile Leila added to petting Dora, putting Dora on her lap etc. This probably took a few weeks but it even shocked me. Then Dora thought of Leila as a pez dispenser and would see her and run to her!

I would also try to approach her from a lower level. Think of how dogs approach each other when they are intimidated- down low. Less scary for her. So get on your knees.

Honestly though, if you feel it might not be a great match, I would return her and find the best dog for you and your family. It may not be this dog and that happens! I have really tried to develop this way of thinking and I think your breeder probably knows this too. I am very active with my dogs so a loving couch potato is probably not going to fair well in my house. My maltese will probably give it a heart attack first of all! And if I were matched with the wrong puppy, I would probably exchange or wait for a better puppy that was better suited for my home.

Amanda
Join Date: Oct 2007
Posts: 1,482
Submit Photo: 0
Photo Submissions 2 Times in 2 Posts
Jan, I asked and the breeder didn't do a temperament test. I do know the parents are both outgoing friendly dogs.

Just now my husband and I sat on the floor and tried calling her to us, making smoochy noises, and she sat about 10 feet away and simply looked at us, then turned and walked away. ???

So we'll try to ignore the behavior and only reward the times she comes up to us on her own. I have noticed she doesn't like for us to be out of her sight and she will follow us but if we turn to her she runs away.

There are times we have to pick her up such as when we take her out or put her in the crate for the night. So at those times we should give a treat when we go to pick her up.

So when I do pick her up she does like to melt into my shoulder and be carried like a baby. Kind of mellow for a puppy! Would that be considered catering to her?
Senior Member
Join Date: May 2007
Location: Indiana
Posts: 3,119
Submit Photo: 3
Photo Submissions 4 Times in 4 Posts
Oh Jan I am sorry that Tessa is not warming up.....I hope that things will work out soon for her and you!!!! I am sure that it is hard to see her act that way....it sounds like your breeder is going to be alot of help to you!!! Please keep us posted as to how she is going!!!
Jillee sends Tessa some puppy kisses!!!
---
~~Mommy"s Little Angel~~
Posting Rules

You may not post new threads

You may not post replies

You may not post attachments

You may not edit your posts

---

HTML code is Off

---