Join Date: Dec 2007
Posts: 87
Submit Photo: 0
Photo Submissions 0 Times in 0 Posts
What's with the teeth??
---
Wesley is 5 months now and I swear I have picked up atleast 3 teeth off the floor and taken another 2 or 3 THIS WEEK out of his mouth because he's just chewing on them and I couldn't figure out what was in his mouth. Is this normal?? I looked in his mouth one week and he was missing all the bottom row of teeth. The next week they were all in. Wow, why can't kids get them in that fast! I guess maybe i just never paid that much attention with any other dog we've had, but it seems strange.
Anybody?
Senior Member
Join Date: Nov 2006
Location: Long Island, NY
Posts: 8,619
Submit Photo: 3
Photo Submissions 19 Times in 19 Posts
You're lucky you found the teeth. I only found one of Kodi's and guess the other ones got eaten.
---
Michele
Kodi & Shelby's Mom and Julian's Grandma
Benji and Lizzie's Mom
Join Date: Jun 2007
Location: New Jersey
Posts: 4,086
Submit Photo: 0
Photo Submissions 6 Times in 5 Posts
Wesley is so adorable! Love his cute ears! Well, my Lizzie is 5 months and she has already lost her puppy teeth in the lower front and the upper as well. As far as I know, it is normal for them to lose teeth at this age. You might want to get him checked with the vet to see how many of his adult teeth are in and if there are any puppy teeth that haven't fallen out. Sometimes they need to be removed surgically.

Good luck!
-Poornima
---
Best, Poornima
Riley & Monte's mom
Join Date: Feb 2007
Location: MA
Posts: 5,579
Submit Photo: 2
Photo Submissions 16 Times in 13 Posts
Senior Member
Join Date: May 2007
Location: Indiana
Posts: 3,119
Submit Photo: 3
Photo Submissions 4 Times in 4 Posts
Welcome to the forum!!!!! I have a lot of Jillee's teeth...I am going to scrapbook them sometime but for now they are sitting on a piece of paper tucked away...I should count and see how many I have. Jillee got spayed last week and they only had to pull one tooth....so she is growing up....She will be nine months...and she weighs nine pounds...just at nine pounds though!!!
---
~~Mommy"s Little Angel~~
Tori's mom
Join Date: Feb 2007
Location: Sunny SoCal
Posts: 4,988
Submit Photo: 19
Photo Submissions 10 Times in 6 Posts
Mom of Brutus and Roxie
Join Date: Mar 2007
Location: Danville, CA
Posts: 2,152
Submit Photo: 0
Photo Submissions 0 Times in 0 Posts
Between 2 dogs, I only found Roxie's last baby tooth and that was well after it should have fallen out.
Valentino's Mom, Vicki
Join Date: Oct 2006
Location: Dallas, Texas
Posts: 2,590
Submit Photo: 0
Photo Nominations 1 Time in 1 Post
Wesley is so cute! Valentino had to have some of his baby teeth pulled so be glad they are falling out on their own! BTW....my Dad and my brother are named Wesley! Great name!
Susan
Join Date: Feb 2007
Location: Near San Francisco Bay Area
Posts: 4,063
Submit Photo: 2
Photo Submissions 2 Times in 2 Posts
Sounds pretty normal to me. I wish I had found more of my girls' teeth. I have a couple from each dog but that's it.

Welcome to the Forum!! Wesley is just adorable.
---
Susan
Kubrick & Hitchcock's Mom
Join Date: Apr 2007
Location: New York, NY
Posts: 7,774
Submit Photo: 1
Photo Submissions 33 Times in 24 Posts
That's completely normal. I found 7 of Kubrick's teeth all told (plus the one that was removed by the vet). I only kept one though.
---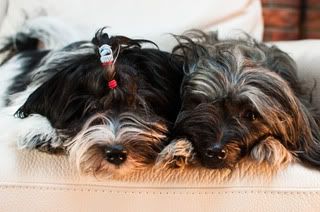 Visit
my blog

-----
Check out my
photos
-----
Photography (pets, people, weddings) -
TripleC Photography
Posting Rules

You may not post new threads

You may not post replies

You may not post attachments

You may not edit your posts

---

HTML code is Off

---