Junior Member
Join Date: Jun 2013
Posts: 11
Submit Photo: 0
Photo Submissions 0 Times in 0 Posts
14 weeks!!
---
Hi everyone-I posted a few months ago with a quick hello and about to get two puppies. Well, they are HOME! Honey (the girl) and Hobie (the boy) are doing wonderfully. We have the typical hurdles we are trying to overcome (house training, obedience), but all in all, they have been soo much fun. They both are pretty good at using the pee pads or going to the gate and whining, or sniffing as cues to go outside. They both sit, lay down, come, and Honey is better at stay (for a little while) and she is beginning to roll over. Hobie on the other hand will give kisses and stay-no roll over yet. We will be starting obedience training classes for both soon.

The puppies have their own crates and kennel up well. ( I work nights, so I have them in there while I sleep some during the day). Just thought I'd drop a line to say hi-I got a little busy trying to acclimate Honey and Hobie home! -I love reading about everyone's puppies!!
Ruth (me) Chester (dog)
Join Date: May 2013
Location: St. Louis area
Posts: 887
Submit Photo: 16
Photo Submissions 8 Times in 8 Posts
They are two cute snugglebugs!
---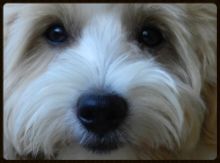 Hav to hav a Hav!!!
Ruth and Chester
(Chester's DOB - 4/04/13)
"Dogs are NOT stupid, they are smarter than you think."
Dana and John
Join Date: Jun 2013
Location: Pittsburgh
Posts: 532
Submit Photo: 0
Photo Submissions 6 Times in 6 Posts
Junior Member
Join Date: Jun 2013
Posts: 11
Submit Photo: 0
Photo Submissions 0 Times in 0 Posts
Haha Gibbs, don't you do that with your dog?
I'm not sure what happened to the photo-it should right side up in iPhoto...
Evelyn
Join Date: Apr 2010
Location: Chicago burbs
Posts: 4,652
Submit Photo: 4
Photo Submissions 30 Times in 28 Posts
They are just as cute as can be!!! Congrats!
---
Senior Member
Join Date: May 2012
Location: KY
Posts: 642
Submit Photo: 2
Photo Submissions 3 Times in 3 Posts
What 2 cute little fluff balls! Welcome to Hav-parenthood. We look forward to hearing your adventures.
---
Pat - AKA Kallie's & Abby's mom
Senior Member
Join Date: Jun 2013
Location: Queensland, Australia
Posts: 454
Submit Photo: 1
Photo Submissions 7 Times in 6 Posts
I have to use the "adorable" word again - but then aren't all Hav puppies. However ey do look very cute together. Thanks also Gibbs for my breakfast laugh out loud.
---
Hav Fun,
Ruth
Charlie's Diary
http://www.havaneseforum.com/showthr...t=27698&page=4
Henry 2006-2018/ Kordelia
Join Date: Jun 2007
Location: NJ/NYC metro.
Posts: 4,158
Submit Photo: 11
Photo Submissions 27 Times in 27 Posts
ohhh, 2 little pups sleeping - how wonderful!
Honey & Hobie are so sweet.
So cute. I can't wait until the time is right for us to get a 2nd hav
Posting Rules

You may not post new threads

You may not post replies

You may not post attachments

You may not edit your posts

---

HTML code is Off

---