Member
Join Date: Apr 2013
Location: Australia
Posts: 88
Submit Photo: 0
Photo Submissions 3 Times in 2 Posts
The Ever Growing Extended Family
---
I have my first Hav Tyrion, who is just getting cuter and cuter as he grows up! But as I've mentioned before I also show dogs for my friend who is a breeder and through her I have what we have dubbed my foster children.
And seeing as the two youngest are just sooo cute I thought I'd introduce them.
First is Miss Lena aka Skiddles (she's a total nutter, never stops running around) who at her very first show went Best in Show Baby (very proud trainer/handler/foster mum)
Then our youngest is Mr Harry Dresden who is only just 9 weeks old now. He's totally convinced one of my samoyed girls is his mother
And beautiful Whitman (who you've all met before) who took his first Best of Breed with me the other weekend and a Group 2 (again very proud trainer/handler/foster mum)
And we can't forget my beautiful Tyrion, who is just totally awesome
Enjoying his favourite thing, belly rubs
Dave T
Join Date: Dec 2007
Location: Ontario Canada
Posts: 10,874
Submit Photo: 3
Photo Submissions 119 Times in 117 Posts
thanks , they're all gorgeous. koodos.
---
Dave and Molly
Ian Dunbar was awarded the Outstanding Achievement Award from I.P.D.T.A. Here's a picture of me accepting the award on his behalf.
Member of IAABC ,International Association of Animal Behavior Consultants , Member of Pet Professional Guild
Senior Member
Join Date: Jul 2011
Location: Bergen County NJ
Posts: 851
Submit Photo: 0
Photo Submissions 12 Times in 12 Posts
Wow, those are some good looking dogs. Congrats
Metrowest, MA
Join Date: Jun 2009
Location: Massachusetts
Posts: 24,983
Submit Photo: 8
Photo Submissions 344 Times in 342 Posts
Senior Member
Join Date: Aug 2013
Location: NC
Posts: 396
Submit Photo: 10
Photo Submissions 6 Times in 6 Posts
What a gorgeous family you have!
---
Traci & Ludo
*~*~*~*~**~*~*~*~*~*~*
The dog becomes your dream come true, the very thing you wanted.
- Maurice Sendack
Evelyn
Join Date: Apr 2010
Location: Chicago burbs
Posts: 4,652
Submit Photo: 4
Photo Submissions 30 Times in 28 Posts
What a pretty group of pups!! I really love them all!!
---
Canela, Vino & Jack's Mom
Join Date: May 2012
Location: Born and raised in Chicago; now North Pole, Alaska
Posts: 693
Submit Photo: 35
Photo Submissions 6 Times in 6 Posts
Awww they are all adorable but really love the belly rub picture.
Senior Member
Join Date: Aug 2012
Location: North Carolina
Posts: 2,362
Submit Photo: 36
Photo Submissions 60 Times in 60 Posts
Ruth (me) Chester (dog)
Join Date: May 2013
Location: St. Louis area
Posts: 887
Submit Photo: 16
Photo Submissions 8 Times in 8 Posts
Awwww, such an adorable little hav family!!! I love the belly rub picture too.
---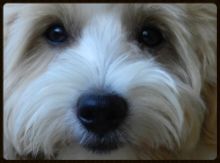 Hav to hav a Hav!!!
Ruth and Chester
(Chester's DOB - 4/04/13)
"Dogs are NOT stupid, they are smarter than you think."
Member
Join Date: Apr 2013
Location: Australia
Posts: 88
Submit Photo: 0
Photo Submissions 3 Times in 2 Posts
Thanks everyone. They're a great little group
Posting Rules

You may not post new threads

You may not post replies

You may not post attachments

You may not edit your posts

---

HTML code is Off

---