Join Date: Feb 2008
Posts: 696
Submit Photo: 5
Photo Submissions 0 Times in 0 Posts
Kona has a playmate now!
---
Here are a few pictures of Kona and his new friend. He's a white pomaranian. His name is... um... I can't remember. LOL Our next door neighbor has an all black pom. but kona got bullied by her, so she brought over her little boy, she just got him a week ago. He's 9 weeks now. Kona was so happy. They ran and bounced and jumped all over the yard! They had so much fun. Kona showed him all the neat spots to poo and pee, *groan* and then they ran over to the lillys growing in the yard and played tag on top of them *groan* when he had to go home, Kona ran around the yard for the LONGEST time looking for him.
I felt so sad. But we are supposed to get them together later on this weekend for a longer play date. I took a few pics, but then my camera died, so I'll take more at their next date, but here are a few anyway!
***** Makes me want another....... STOP ME!!!!!!*************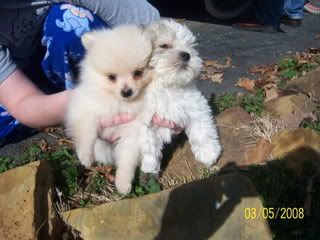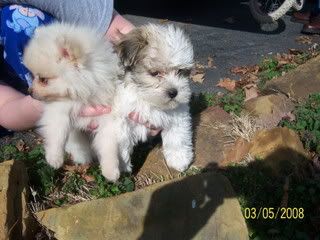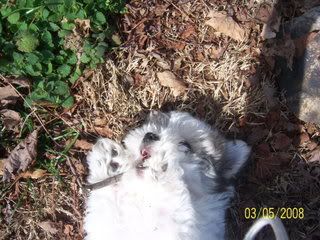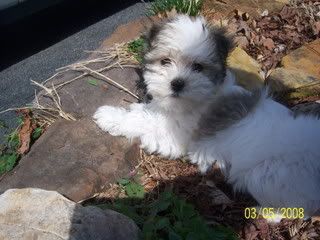 ---
Last edited by SmittenHavaneseMommy; 03-05-2008 at

08:16 PM

. Reason: correct spelling of pomeranian LOL
Luv My Biewer
Join Date: May 2007
Location: Rocklin, CA
Posts: 3,068
Submit Photo: 0
Photo Submissions 0 Times in 0 Posts
Way too cute. But okay, I'll bite. What's a Palmaranian? A Pomeranian that fits in the size of your hand?
---
Northern California
Member BBCA (Biewerbci.org)



Home of VanLeigha Jr. Handlers
Join Date: Feb 2008
Posts: 696
Submit Photo: 5
Photo Submissions 0 Times in 0 Posts
OOPS! That was a horrible typo wasn't it.. LOL ! Thanks for catching it.. I'll have to edit that..
LOL I guess it's a PALM tree/ Rainian.. whatever that is
Senior Member
Join Date: Nov 2006
Location: Long Island, NY
Posts: 8,619
Submit Photo: 3
Photo Submissions 19 Times in 19 Posts
Oh, they're so cute.
---
Michele
Kodi & Shelby's Mom and Julian's Grandma
Kubrick & Hitchcock's Mom
Join Date: Apr 2007
Location: New York, NY
Posts: 7,774
Submit Photo: 1
Photo Submissions 33 Times in 24 Posts
They're very cute together! I can see them being BFFs.
---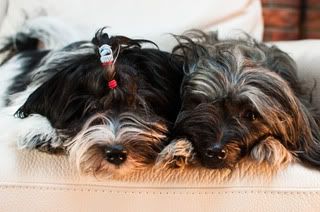 Visit
my blog

-----
Check out my
photos
-----
Photography (pets, people, weddings) -
TripleC Photography
Posting Rules

You may not post new threads

You may not post replies

You may not post attachments

You may not edit your posts

---

HTML code is Off

---