Member
Join Date: Jul 2013
Location: Ontario, Canada
Posts: 43
Submit Photo: 0
Photo Submissions 0 Times in 0 Posts
Ivy Update
---
I thought I'd give you all an update on our Ivy. She is 16 weeks old tomorrow and we've had her for 8 weeks now.
She is a very active and a bit rambunctious puppy. Loves to play fetch and loves to spend a lot of time outside. She likes it best when we are out playing with her but will also spend up to a half hr out in the yard alone, playing or talking to the dogs next door.

I feed her Acana puppy small breed and some can food.
She sleeps in her crate at night (or did until recently).
She rings her bells to go outside 95% of the time when we are in the family room (at patio door). I recently added bells to the kitchen doorway that leads down to the family room because if she ever pees on the floor it is there, I guess we miss her cue.

A week ago Ivy became sick. She dry heaved 3 times Sat at 4AM. At wakeup she didn't want to eat breakfast and although she seemed happy she didn't have her usual energy, acted more like an older dog than her puppy self. Called the vet who said wait and see. As the day went on she became her usual self and by mid afternoon she was eating and acting normal.
BUT.....Sunday at 3AM she dry heaved again and the Sunday was an exact repeat of Saturday.
Monday she was back to her normal self. 100% better!
BUT.....Tuesday she was not well again, minus the dry heaving so it was off to the vet. She also had a gross mucus/bloody stool.
The vet gave her a shot of something to settle her stomach, a can of gastro i/d, some dewormer for 4 days and an antibiotic for 5 days. The thought was she had eaten something and now her digestive track was upset and she might have worms. The fecal sample cam back with round worms.
Ivy was all better by Wednesday.

I have been feeding her rice, the gastro can and chicken. Then just rice, her usual can and chicken. Today I tried to give Ivy her usual kibble and can but she wouldn't eat it!!!! I think I've spoiled her with the chicken. I took it away while she wasn't looking and gave her the rice, usual can and chicken (probably a mistake), and she ate it! The bugger! Now what?! I want her to go back to her regular food. Should I just go back and hope she'll eat it? She's never been picky before.

Also when she was unwell I let her sleep on my bed. It has been 3 night now of her sleeping on my bed. I feel like she should go back to her crate but I'm afraid I've spoiled her there too. I guess I'll put her in tonight but I bet there will be whining and once I put her in I can't take her out and let her sleep on my bed.

Thanks for listening!!
---
Last edited by Rayven; 11-15-2013 at

03:42 PM

.
Member
Join Date: Oct 2013
Location: Queensland, Australia
Posts: 48
Submit Photo: 1
Photo Nominations 1 Time in 1 Post
I get my puppy in a couple of days so can't comment too much. In terms of food I have always just kept offering them the food I want them to eat until they do, sometimes making a game using it as treats ect to get them going, but if she hasn't eaten much lately I can understand wanting her to eat.
Otherwise glad she is settling in
Ruth (me) Chester (dog)
Join Date: May 2013
Location: St. Louis area
Posts: 887
Submit Photo: 16
Photo Submissions 8 Times in 8 Posts
I would love to see pictures of Ivy
I hope Ivy won't get sick again - that sounded terrible.
---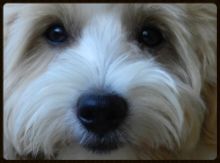 Hav to hav a Hav!!!
Ruth and Chester
(Chester's DOB - 4/04/13)
"Dogs are NOT stupid, they are smarter than you think."
Member
Join Date: Jul 2013
Location: Ontario, Canada
Posts: 43
Submit Photo: 0
Photo Submissions 0 Times in 0 Posts
I'll try and add some photos.
Posting Rules

You may not post new threads

You may not post replies

You may not post attachments

You may not edit your posts

---

HTML code is Off

---