Member
Join Date: Oct 2013
Location: CT
Posts: 31
Submit Photo: 0
Photo Submissions 0 Times in 0 Posts
Introducing Zoey
---
Hi other havanese lovers,
This is Zoey my first havanese (not my 1st dog!). She's choc with wht flares & from the look of the hair coming in her body is going to be more latte than choc - but who knows? She's 14wks & 4.5lbs & a bundle of spunky love. We've had her for just over 2 wks & she couldn't be more precious, loves to learn - knows sit, down, leave it, look - not too good with stay. Fearless with people & other dogs - even my son's bulldog - perfect in all ways except when we leave her in her crate by herself she has separation distress to the point of soaking herself in saliva by time we come back. And am not talking for long periods. Am trying all the things recommended to cure it on this site & other training sites but it's slow progress. Anyone else's pup have separation issues?
Senior Member
Join Date: Oct 2010
Location: West Linn Oregon
Posts: 4,845
Submit Photo: 21
Photo Submissions 40 Times in 40 Posts
She just wants to be with you all the time. I couldn't stand to hear the crying so I gave in. Maddie spent more time alone than my Zoey. I would leave and stand outside tell she calmed down. When I returned she was quiet. But if I was home she would have a fit. I got Zoey 3 mo after and the two kept each other happy. Although one day Maddie climbed out of her x pin and hurt herself. So mine had run of my kitchen area with a big painting I have as a wall. How long do you leave your new baby?
---
Maddie at 5mo old
Member
Join Date: Oct 2013
Location: CT
Posts: 31
Submit Photo: 0
Photo Submissions 0 Times in 0 Posts
Maybe one hour, sometimes two. Other times only 5 mins. I never go back to her while she's crying. I work from home so I'll put her in the crate for 20min spells with some goodies in the same room with me & she's fine. She just doesn't like to be alone. And before anyone suggests another dog, I already have one & a cat! She is getting better - but very slowly which is fine with me. Just curious if it was a havanese trait cos they r such people dogs
Jen, Timmy and Mae
Join Date: Sep 2011
Location: Philly Burbs
Posts: 1,672
Submit Photo: 21
Photo Submissions 16 Times in 16 Posts
Zoey is quite a cutie, I have a 12 week old and also a 2 year old. Do you leave the TV or radio on when you leave? Find something she really likes, toy or treat, and only use it when she's left alone. Is she in a crate or expen? Maybe she doesn't like being in a crate? I use a hard plastic crate at night for Mae, but it's dark so I'm not sure she knows the difference, I have a wire crate downstairs for when I decide to take away the expen. She is fine in the expen, she complained in the beginning but I just ignored her. Can she see you when you're working? If so, maybe move away so she can't see you but hear you? I think since she is improving it might just take some time.
---
Senior Member
Join Date: Feb 2013
Location: Florida
Posts: 491
Submit Photo: 1
Photo Submissions 6 Times in 6 Posts
When I first brought my boy home he was a little whiny at night or when I crated him during the day and I was home (for example if I couldn't watch him). He did stop eventually. What really helped was taking a "crate games" class. You can do a lot of the exercises at home without going to an actual class. It involves giving the pup treats in the crate etc. You have to find treats they really like though. For my pup it is chicken. The Crate Games format teaches the dog to think and since havs are smart, it is very easy with them. My pup was always the demo dog in class and he was the youngest student.

The other thing that I did was ignore him when I let him out and put him in (other than give him a treat for going in). Now he likes his crate and it is very handy that he does. He's only in it at night or if we are gone.

I never used an ex-pen, I had no experience with them and with another dog it didnt seem like a good idea. I did have him on a leash a lot at home during the housebreaking phase. That method worked the best for me.
Senior Member
Join Date: Aug 2013
Location: NC
Posts: 396
Submit Photo: 10
Photo Submissions 6 Times in 6 Posts
Aw... she has such a sweet face! I bet she's going to make you so happy and vice versa!!
---
Traci & Ludo
*~*~*~*~**~*~*~*~*~*~*
The dog becomes your dream come true, the very thing you wanted.
- Maurice Sendack
Ruth (me) Chester (dog)
Join Date: May 2013
Location: St. Louis area
Posts: 887
Submit Photo: 16
Photo Submissions 8 Times in 8 Posts
Congratulations on Zoey, what an adorable chocolate fluff!
---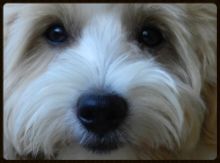 Hav to hav a Hav!!!
Ruth and Chester
(Chester's DOB - 4/04/13)
"Dogs are NOT stupid, they are smarter than you think."
Member
Join Date: Oct 2013
Location: CT
Posts: 31
Submit Photo: 0
Photo Submissions 0 Times in 0 Posts
Thanks for all the ideas. I do play the crate games with chicken like you & am keeping her on leash till housebroken & she is super-intelligent & smart. All methods that have worked like a charm with all my other dogs. And to a certain extent they work with her. I know we'll get there eventually. Have been leaving her in the kitchen for short periods while I'm home & I vary the length & how often. That seems to be helping. I've no doubt we'll get there.
How's everyone else doing with p-training? She's great at dashing to door like a madwoman when she has to poop - not so good at moving to the door for peeing. Great at night tho. Again have no doubt we'll get there.
Senior Member
Join Date: Aug 2010
Posts: 354
Submit Photo: 0
Photo Submissions 2 Times in 2 Posts
Zoey is a cutie pie
I just want to give her a big snuggle because she looks so adorable!
Henry 2006-2018/ Kordelia
Join Date: Jun 2007
Location: NJ/NYC metro.
Posts: 4,158
Submit Photo: 11
Photo Submissions 27 Times in 27 Posts
Zoey is darling.
Does she like her crate? Does she ever go in there when you are home (to practice being in there and quieting herself?)
My Henry did that too, he'd scream. I think it's just a growing up kind of thing.
Do you leave the house and not say good-bye. And then no big deal when you come home?
Posting Rules

You may not post new threads

You may not post replies

You may not post attachments

You may not edit your posts

---

HTML code is Off

---