Puppy torture
---
Well poor Toby did not really like putting this on but Levi insisted...
He is doing so well. The smartest and cutest puppy ever of course
He slept from 9pm to 5:15 am. Actually I don't know when he woke up but that's when I checked and he was up. He has pooped 100% outside, peed outside three times, twice on the rug and twice took himself to the pad so I am thrilled! He also went in the car twice yesterday and once today and no puking!! (Am I jinxing myself? Anyway...I hope not!)
Mom of Brutus and Roxie
Join Date: Mar 2007
Location: Danville, CA
Posts: 2,152
Submit Photo: 0
Photo Submissions 0 Times in 0 Posts
What a cute and smart baby you have!!!
Susan
Join Date: Feb 2007
Location: Near San Francisco Bay Area
Posts: 4,063
Submit Photo: 2
Photo Submissions 2 Times in 2 Posts
Toby is certainly handsome in his sweater. What a cutie.
---
Susan
Senior Member
Join Date: Apr 2007
Location: Long Island, New York
Posts: 8,941
Submit Photo: 3
Photo Submissions 41 Times in 25 Posts
He looks so cute in his sweater -- preppie! I would say yes, he is brilliant. You're off to a good start.
---
<b>Just Milo and me, and . . . </b>Bailey makes three . . . until Ruby said, "hey, what about me?"
Geri, Milo, Bailey and HRH Princess Ruby Tuesday
If you're thinking of getting a puppy, click here
http://www.photoshow.com/watch/YK8AH4rw
Pablo&Chuy's momma
Join Date: Jul 2007
Location: Eden, NC
Posts: 4,286
Submit Photo: 11
Photo Submissions 9 Times in 8 Posts
I think I like your son, I'm a torturer too, LOL. Toby is very cute and well on his way of becoming a trained little man. Congrats!
---
Cooper,Emma,Lily,Winston
Join Date: Oct 2006
Location: Lincoln,NE
Posts: 2,018
Submit Photo: 57
Photo Submissions 4 Times in 4 Posts
OMG! Just precious!!!
Can I have him?
Beverly
---
"The greatness of a nation and it's moral progress can be judged by the way its animals are treated"
Mahatma Gandhi
Thanks girls
Everyone told me how much trouble puppies are..nobody tells you how you get hooked instantly!
Quote:
OMG! Just precious!!!
Can I have him?
Just send him home when he's potty trained
Thanks Maryam. I swore I would never get a toy and certainly I would never dress one @@ I turned into such a hypocrite.
Kubrick & Hitchcock's Mom
Join Date: Apr 2007
Location: New York, NY
Posts: 7,774
Submit Photo: 1
Photo Submissions 33 Times in 24 Posts
Oh Toby is adorable in his sweater! Too cute.
---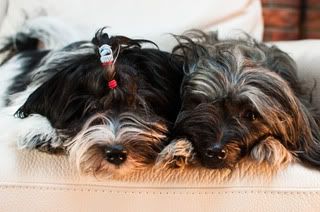 Visit
my blog

-----
Check out my
photos
-----
Photography (pets, people, weddings) -
TripleC Photography
Posting Rules

You may not post new threads

You may not post replies

You may not post attachments

You may not edit your posts

---

HTML code is Off

---