Join Date: Dec 2007
Posts: 454
Submit Photo: 0
Photo Submissions 0 Times in 0 Posts
Can you give me a rough estimate...?
---
about when your Havs were house-broken?
Bonnie is pretty reliable at almost 9 months. Duncan still has accidents -- no more than once a day pee-pee. He's still pretty young, so I don't get too worried. I have a pretty secure feeling that I won't have to worry about accidents when their birthdays roll around. But I was just wondering about other pups.
Senior Member
Join Date: Dec 2007
Location: New Jersey
Posts: 860
Submit Photo: 0
Photo Submissions 0 Times in 0 Posts
JUST when we thought it was safe to go back in the water...
EVERYTIME we say that Molly is "perfect", she proves she's NOT...but usually it's because WE were distracted and didn't pay attention to her "Gotta' GO!" dance!
Molly is 18-months-old TODAY, and (oh, boy! I'm gonna' jinx myself NOW!) she's pretty much 99...well, make that 97%...yeh, that's about right...
And truthfully? The 3% is our doing (or not doing...) Hang in there, and enjoy the successes!
---
Maureen and Molly
Senior Member
Join Date: Aug 2006
Location: Lake Gaston, N.C.
Posts: 3,262
Submit Photo: 0
Photo Submissions 29 Times in 29 Posts
Roxie, Belle, Posh, Razzle, Frolic, and Blanchi have never had an "accident" in the house. It took us a while to figure out how to do it but the first few days when we have the last puppy that we keep from a litter I do nothing else but watch and train.
Senior Member
Join Date: Nov 2007
Location: Upstate NY
Posts: 267
Submit Photo: 0
Photo Submissions 0 Times in 0 Posts
Hmmm.....about two weeks ago, so that would make her 5 years and 9 months old.
Sorry, I couldn't resist responding to this one, it's been quite a trip, trying to get her housebroken, I had to find some humor in it.
---
Jen - Best friend to Amy
Karen
Join Date: Nov 2006
Location: PA
Posts: 3,067
Submit Photo: 4
Photo Submissions 16 Times in 9 Posts
Brady was easy to train. I am sure if I get a second, I won't be so lucky. He never liked to poop inside so he only ever had one or two poop accidents indoors. He was reliable by the time he was 4 or 5 months and almost perfect by 6 months. I have to admit though, even though he is perfect at our house, he has had accidents at other peoples homes. The neighbors take him to visit from time to time and I found out recently he has had a few accidents there. I think they give him too much freedom for him being in a strange place and he doesn't know where to go. That, and the kids are the ones who take him and watch him and they just don't pay enough attention to his signals or take him out often enough. When I have him at my parents or any strange home, I am sure to take him out every hour just in case.
---
**Karen, Mom to Brady, Dugan, and Devon
Kubrick & Hitchcock's Mom
Join Date: Apr 2007
Location: New York, NY
Posts: 7,774
Submit Photo: 1
Photo Submissions 33 Times in 24 Posts
Kubrick was reliable by 4.5 months and had a set back at around 9 months. That was one accident and then I just restricted him more and it fixed itself right away. He was very easy to train. I'm sure, like Karen, that I will probably get a very difficult one to train next because that's just how things seem to work. LOL.
---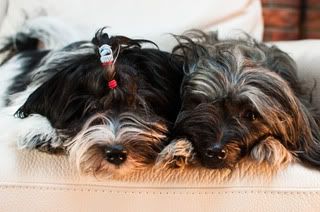 Visit
my blog

-----
Check out my
photos
-----
Photography (pets, people, weddings) -
TripleC Photography
Senior Member
Join Date: Nov 2007
Location: Arkansas
Posts: 1,869
Submit Photo: 0
Photo Submissions 19 Times in 6 Posts
Cooper is 17 months, and just the other day while hanging some clothes. I smelled something terrible. Looked back, and he'd pooped right behind me!
That's only been like the third time since he was about a yr old. But, still..he sucks, lol.
---
Tritia, Daisy, Cooper, and Bodie.
Izzy, Doc, and Kai's mom
Join Date: Jan 2007
Location: Monmouth, IL
Posts: 2,349
Submit Photo: 4
Photo Submissions 30 Times in 13 Posts
Izzy trained very easily...I think by 4.5 to 5 months, she was great and hasn't had an accident in the house or anyone else's house since then. Now Doc....he's a different story. He has peed on Izzy's bed, Kai's bed, and one of our bed pillows in the last three days. He's also peed on a blanket on the couch..twice. I'm not sure why. He was using the pee pad when we weren't asking him to go out at the right time, but now, it's bedding type material. He doesn't poop inside anymore, but I don't trust him otherwise. We are going to have to go back to restricting him a bit more again!
---
Doc
Bugsy's Mom
Join Date: Nov 2006
Location: San Francisco, CA
Posts: 4,341
Submit Photo: 3
Photo Submissions 6 Times in 5 Posts
Bugsy was relatively easy to train. He never had any poo accidents in the house and was fully trained at 6 months. He is also good at other people's houses that we frequent.
---
-Julia
Henry 2006-2018/ Kordelia
Join Date: Jun 2007
Location: NJ/NYC metro.
Posts: 4,165
Submit Photo: 11
Photo Submissions 27 Times in 27 Posts
It took a good 12 months. These guys have small bladders and have to grow into the muscles in that area and learn when and where.
Posting Rules

You may not post new threads

You may not post replies

You may not post attachments

You may not edit your posts

---

HTML code is Off

---