Join Date: Oct 2007
Posts: 58
Submit Photo: 0
Photo Submissions 0 Times in 0 Posts
My first 4 months as a new mom
---
Wow time has flown and I have been remiss at coming to the site. I have now had Bailey for 4 months and things have definitely changed. I have noted a few things:
1. I suck at training. She is better at it.
2. She can jump out of her ex pen in 30 seconds with one mighty leap.
3. Her potty training depends upon how well I behave.
4. She can wiggle herself like a corkscrew between the chair ottoman and my legs and get up much easier than taking a flying leap. (actually I prefer the corkscrew method than the flying leap)
5. She still doesn't like those rubber bands in her top-knot, but likes the visibility.
6. She loves to take a bath. If she sees me filling up the sink, she runs over and jumps up and down.
7. She knows the sound of the tupperware closing that holds her food and starts calling for it. (the term 'knock it off' usually gets her to quiet down).
8. She has the beginning of a watch dog. she was on the deck (I have it enclosed so she can't come down the stairs) and I was spraying some weeds. She didn't know who it was initially and was growling.
9. I have to spell the word snack because she knows what it is and comes running. She knows exactly where they are and will, with more than a few tries 'stand' to get it.
10. My patience are short some times as the potty training (she has a potty box) is as mentioned in #3 doesn't go well when she wants to punish me. If she wants my attention and she doesn't get it immediately, she sometimes goes astray.
11. When she does go where is supposed to (and she knows), she will run to me all excited and wants me to 'go look' - and I do.
12. She likes to get in the bed with me after I get up in the mornings (on the week-ends) and snuggle. Typical to a man. snuggle for 5 minutes and then wants down and out.
13. She has sharp little teeth.
14. She did well with grooming and being brushed until I took her to a groomer. (they must have hurt her) Now grooming is becoming a chore for me and anxiety for her. We are working to overcome this.
15. She likes to go to petmart and socialize.
16. She still doesn't like to ride in the car, and I am still working on it. At least she doesn't throw up as much. nothing like smelling thrown up dog food that has salmon in it. (not to mention the clean up - yuk)
17. Some days are frustrating and I am told - 'but she is a puppy'.
18. I am grateful she has enough toys that she hasn't started on any of my shoes and/or furniture.
19. Sometimes I get so irritated I just want to give her away, then she looks at me and cocks her head and starts wagging her tail. - and then my heart melts. - no fair
Luv My Biewer
Join Date: May 2007
Location: Rocklin, CA
Posts: 3,068
Submit Photo: 0
Photo Submissions 0 Times in 0 Posts
Too cute. Just gotta love them and remember, puppies aren't puppies for very long. But your love lasts forever.
---
Northern California
Member BBCA (Biewerbci.org)



Home of VanLeigha Jr. Handlers
Senior Member
Join Date: Nov 2007
Location: Arkansas
Posts: 1,869
Submit Photo: 0
Photo Submissions 19 Times in 6 Posts
Yep, you've reminded me..puppies suck
But, definitly some good times in there.
---
Tritia, Daisy, Cooper, and Bodie.
Kubrick & Hitchcock's Mom
Join Date: Apr 2007
Location: New York, NY
Posts: 7,774
Submit Photo: 1
Photo Submissions 33 Times in 24 Posts
LOL, very cute.
---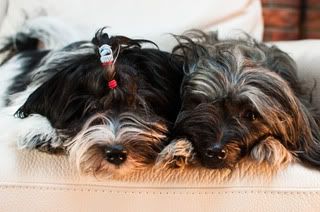 Visit
my blog

-----
Check out my
photos
-----
Photography (pets, people, weddings) -
TripleC Photography
Junior Member
Join Date: Mar 2008
Location: Michigan
Posts: 871
Submit Photo: 5
Photo Submissions 7 Times in 4 Posts
#19...... yup..... I feel this way some days too!
Marley's Mom
Join Date: Jun 2007
Location: Snohomish, WA
Posts: 629
Submit Photo: 2
Photo Submissions 6 Times in 3 Posts
Very cute...

But HELLLOOOOOOOOOOOOOO....aren't you missing something...say.....like

PICTURES?????????????????????????????????
Izzy, Doc, and Kai's mom
Join Date: Jan 2007
Location: Monmouth, IL
Posts: 2,349
Submit Photo: 4
Photo Submissions 30 Times in 13 Posts
just like with children....you'll forget about all the bad puppy "stuff"....
---
Doc
Benji and Lizzie's Mom
Join Date: Jun 2007
Location: New Jersey
Posts: 4,086
Submit Photo: 0
Photo Submissions 6 Times in 5 Posts
Cute!
---
Best, Poornima
Join Date: Apr 2008
Posts: 27
Submit Photo: 0
Photo Submissions 0 Times in 0 Posts
I got a kick out of reading this! Thanks for gathering your thoughts enough to write it! We are getting our puppy in 4 weeks and your list was a reality check for me. I am just trying to prepare myself and this BB has helped me so much! I'm sure you will reading my list soon!

Alycia
Mom to Ricky and Sammy
Join Date: Jan 2007
Posts: 10,319
Submit Photo: 30
Photo Submissions 21 Times in 17 Posts
Quote:
Very cute...

But HELLLOOOOOOOOOOOOOO....aren't you missing something...say.....like

PICTURES?????????????????????????????????
Hey. I'm with you, Alexa!
Love the list though!! lol
---
Hello. My name is marj and I have MHS.
"The greatness of a nation and its moral progress can be judged by the way its animals are treated." Mahatma Gandhi
"Come to the edge, he said. They said: We are afraid. Come to the edge, he said. They came. He pushed them and they flew." -Guillaume Apollinaire"
Posting Rules

You may not post new threads

You may not post replies

You may not post attachments

You may not edit your posts

---

HTML code is Off

---