Join Date: Oct 2007
Posts: 1,482
Submit Photo: 0
Photo Submissions 2 Times in 2 Posts
Welcome Home Boomer!
---
We're home! It was quite a weekend. Our son's college graduation and a new puppy
We picked Boomer up mid afternoon on Saturday. He's such a happy friendly boy. Nothing seemed to faze him. No nervousness, no carsickness. We took him to my son's girlfriend's apt so they could meet Boomer and he kissed and played with me the whole way there. Once there he not only met my DS and his gf, there were 4 friends there and Boomer was thrilled to meet them all. He just rolls with the punches.
On the drive home he did the same, he wagged his tail and played, giving us face kisses the entire time. It didn't matter whose lap he was in, he was happy.
When we got home we drove straight to pick up Tessa so they could meet on neutral ground. I needn't have worried, Tessa thinks we brought her the most fabulous toy ever
Tessa's first stay at the pet sitter's (who happens to be her agility instructor) went well too. She loved playing with Teresa's 9 yr old boy and their cat and multiple dogs. And she got some "play" time in on the agility equipment. I'm surprised she wanted to come home, lol.
When we got home all Tessa wanted to do was play with Boomer. She's thrilled (so far), just wiggling all over with her tail going a mile a minute. Despite knowing and reading about how dogs play together I was worried she would hurt him since pinning him seems to be her favorite activity. Her second favorite activity is taking his hair in her teeth and pulling. He's yelped more than once and I've held Tessa back more than once when he seemed to want to be left alone. Tessa has also been drinking from his water bottle and laying in his bed and she intercepted him as he was trying to follow me into the bathroom. Sibling rivalry? lol.
Boomer has used the litter box for several pees and a poop, as well as gone outside a few times, no accidents yet. He whined when we first put him in his crate but he was at eye level with us and as soon as I put my fingers inside he was fine. I'm sure it helped that he was exhausted. Just a few whines through the night quieting as soon as I put my fingers through the slats of the crate. He held his bladder all night long too.
He is just a doll, in looks and personality! We got our new Nikon just in time but I got an error message saying I need to resize so BBL to post pics when I get it figured out.
Pablo&Chuy's momma
Join Date: Jul 2007
Location: Eden, NC
Posts: 4,286
Submit Photo: 11
Photo Submissions 9 Times in 8 Posts
Jan, sounds like Boomer fits right in! I'm glad to hear Tessa is delighted, I think Pablo would be the same, but DH is not having it...right now
Can't wait to see pics!!!
---
Senior Member
Join Date: Mar 2007
Posts: 841
Submit Photo: 0
Photo Submissions 0 Times in 0 Posts
I am glad to hear that all went well and Tessa loves her new brother Boomer. Sounds like they get along great. I can't wait to see more pictures of him and watch to see what colors he changes.

Anne
Kubrick & Hitchcock's Mom
Join Date: Apr 2007
Location: New York, NY
Posts: 7,774
Submit Photo: 1
Photo Submissions 33 Times in 24 Posts
Jan, that sounds wonderful! Can't wait to see all the Boomer pics!
---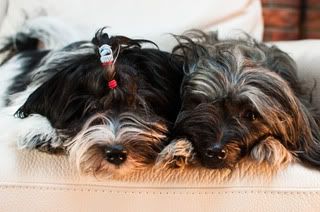 Visit
my blog

-----
Check out my
photos
-----
Photography (pets, people, weddings) -
TripleC Photography
Casper and Missy
Join Date: Jan 2007
Location: Washington state
Posts: 2,194
Submit Photo: 38
Photo Submissions 5 Times in 5 Posts
Jan,
I am so glad things are going well....and there is sooo much fun and joy to come with 2 havs
Amanda
Join Date: Nov 2006
Location: South Carolina
Posts: 9,576
Submit Photo: 2
Photo Submissions 31 Times in 22 Posts
Jan- Great news! I am glad Tessa loves her new toy
We are definitely in need of photos!
Welcome Home Boomer!
Total Havanese Groupie
Join Date: Dec 2007
Posts: 2,639
Submit Photo: 7
Photo Submissions 37 Times in 16 Posts
Jan it sounds like you have a great family. Welcome home Boomer. Can't wait for pics.
Senior Member
Join Date: Apr 2007
Location: Long Island, New York
Posts: 8,941
Submit Photo: 3
Photo Submissions 41 Times in 25 Posts
Jan,

How exciting! Don't worry abut the pinning. Everybody here pins Bailey down all the time and he yelps from time to time. If I stop it he jumps back on whomever he was teasing till they pin him again. So far he's surviving. I can't wait to see pictures.

Hugs for the little boy Boomer.
---
<b>Just Milo and me, and . . . </b>Bailey makes three . . . until Ruby said, "hey, what about me?"
Geri, Milo, Bailey and HRH Princess Ruby Tuesday
If you're thinking of getting a puppy, click here
http://www.photoshow.com/watch/YK8AH4rw
Senior Member
Join Date: Nov 2006
Location: Massachusetts
Posts: 11,746
Submit Photo: 27
Photo Submissions 48 Times in 35 Posts
Welcome home Boomer!!! Congrats Jan and Tessa. And congrats to your son too!!




---
Missy, Jasper & Cash
Sissygirl's Mom (Marie)
Join Date: Aug 2007
Location: Oklahoma
Posts: 2,738
Submit Photo: 5
Photo Submissions 4 Times in 3 Posts
Jan,

Congratulations!!!!! So glad Tessa likes Boomer. We need pics, soon!!
---
Santa, Sissygirl
& Marie
Posting Rules

You may not post new threads

You may not post replies

You may not post attachments

You may not edit your posts

---

HTML code is Off

---