Child, puppy and small toys. HELP!!
---
Daisy is almost 7 months and loves my daughters small toys. She is not allowed in the play room, but we have a low table in our main living space with small toys. My daughter does pretty good when it is just her, but when friends come over it is a constant battle. When Daisy gets a polly pocket, the game is on. I can get her to drop it if I get a treat, but I don't know if she sees this as a reward.
When she is at the table I tell her "no" or "leave it". But she just does not care, she LOVES those small toys. When friends are over, I gate the family room and put Daisy in there.
Is this the right thing to do, or do I need to train her more and will she grow out of this?
Luv My Biewer
Join Date: May 2007
Location: Rocklin, CA
Posts: 3,068
Submit Photo: 0
Photo Submissions 0 Times in 0 Posts
Personally, I haven't had much luck - if MeMe wants one of the girl's small dolls - she ain't gonna give it up thank you very much. I think you are smart to just continue to tell her "no", offer her her own toys and when things get too much, just put her in another room. I don't know if she'll outgrow it, but she'll eventually learn that if she wants to be with you when the girls are playing, she's going to have to stop with the toy stealing. Good luck and if you find the secret, let me know.
---
Northern California
Member BBCA (Biewerbci.org)



Home of VanLeigha Jr. Handlers
Kubrick & Hitchcock's Mom
Join Date: Apr 2007
Location: New York, NY
Posts: 7,774
Submit Photo: 1
Photo Submissions 33 Times in 24 Posts
How is Daisy with Leave It when it comes to other things? I would do a LOT of training and practice practice practice. When she is 100% reliable with leave it with another high value thing, then start to practice with your daughter's toys. ALWAYS treat her for leaving it. You should always first teach her not to pick it up in the first place. If by any chance she does get a hold of one, I would tell her to drop it (she must drop it, don't wrestle it out of her mouth) by having a treat for her, as you are doing. Once she drops it, however, I would then give her one of her own toys to play with and praise her for playing with the right toy.
---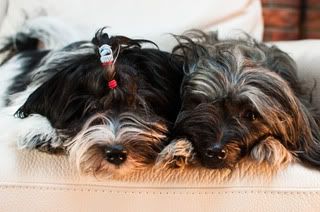 Visit
my blog

-----
Check out my
photos
-----
Photography (pets, people, weddings) -
TripleC Photography
Senior Member
Join Date: Apr 2008
Location: NYC
Posts: 700
Submit Photo: 0
Photo Submissions 0 Times in 0 Posts
Lina makes it sound so easy
---
Michelle (pic of Alan and Guapo)
_______________________________________________
"When you feel lousy, puppy therapy is indicated" - Sara Paretsky
Senior Member
Join Date: Nov 2006
Location: New Jersey
Posts: 9,794
Submit Photo: 2
Photo Submissions 28 Times in 20 Posts
It actually is quite easy! Logan knows Leave it very well, and if I say the command when I see him even heading towards it he will leave it. But Drop it is just as important cause sometimes you dont always see when they are getting the object. I would work on those, and keep her out of the playroom when the friends are there playing, until she can learn the commands. Maybe you could give her a kong or flossie or something to chew, while the playdate is on. she might just prefer to watch & chew!! This way you dont have to worry about the kids screaming - and/or Daisy actually eating a toy!!
---
Lily, Lexi ,Logan, Laila & Lizzie's Mom
www.HillsboroughHavanese.com
(Gigi, Lucas, Dugan, Madeline,Reo,Alvin, Lucky, Lukey, Punch, Colby & Ben-(we will always Love you!!)
Senior Member
Join Date: Nov 2006
Location: Long Island, NY
Posts: 8,619
Submit Photo: 3
Photo Submissions 19 Times in 19 Posts
I teach them drop it and leave it. Kodi is much better at obeying these commands than Shelby. But she takes a little longer to teach. Kodi gets thing right away.
---
Michele
Kodi & Shelby's Mom and Julian's Grandma
Lincoln and Scout's Mom
Join Date: Jun 2007
Location: San Francisco Bay Area, CA
Posts: 3,650
Submit Photo: 1
Photo Submissions 8 Times in 8 Posts
Definitely teach "drop it", but I would also recommend to xpenning off the area where the small toys are when they are out. Or, you could limit use of the small toys to the playroom and have that be off limits to the dog. The risk is just not worth it if you dog accidentally eats something and you don't happen to notice it in time to give the "drop it" command.

I have two boys and decided the small toys need to live and be played with in their bedrooms. Their bedrooms are blocked off with 18" high wooden boards we made since they just will never be "safe" areas for the dogs.

If the boys really want to play with small toys, I expen the room off while they are playing, or have them play with them on a higher table.
---
Jane
Henry 2006-2018/ Kordelia
Join Date: Jun 2007
Location: NJ/NYC metro.
Posts: 4,159
Submit Photo: 11
Photo Submissions 27 Times in 27 Posts
have you tried the "throw-pennies-in-the-tin-can-upon-approach-you-only-do-this-when-absolutely-necessary" ??

I did this to teach Henry to stay away from expensive handbags . . . .
Tori's mom
Join Date: Feb 2007
Location: Sunny SoCal
Posts: 4,988
Submit Photo: 19
Photo Submissions 10 Times in 6 Posts
I agree w/Lina, Laurie and Michele. "Leave it" and "drop it" are crucial commands for Daisy to obey. Not only for the little toys but, ask yourself what would happen if you dropped a pill of some sort and couldn't pick it up fast enough? I've practice those 2 commands almost daily with Tori. I'd say she's 98% compliant with them but, I won't be happy until it's 100%.
Posting Rules

You may not post new threads

You may not post replies

You may not post attachments

You may not edit your posts

---

HTML code is Off

---