Join Date: Jun 2008
Posts: 127
Submit Photo: 0
Photo Submissions 0 Times in 0 Posts
Car Car Rides
---
My girl, Casey, loves car-car rides, but I don't like having her loose in the car. Does anyone have any ideas (eg. harnesses that work) or other strategies. I love her company, but also am a little overly sensitive about her safety, and am concerned about the potential for choking in a harness if she struggles and fights it. The last thing I want is to be attending to her while I am zooming down the highway at 110 km/h. (!)
Senior Member
Join Date: Nov 2006
Location: New Jersey
Posts: 9,794
Submit Photo: 2
Photo Submissions 28 Times in 20 Posts
I think that the safest place for a dog in a car, is in a crate. I personally dont like that, and dont have room in my car for it. Logan will go in a crate if we are going on a long trip, cause he gets sick, but the girls are in lookout seats on harnesses. It takes one or two rides for them to get used to their limitations with the harness and they are fine now. You can adjust the straps to give Casey a longer lead or a shorter one. I sometimes dont put them in their seats, and I agree, it is not a great idea!! Not very safe.
---
Lily, Lexi ,Logan, Laila & Lizzie's Mom
www.HillsboroughHavanese.com
(Gigi, Lucas, Dugan, Madeline,Reo,Alvin, Lucky, Lukey, Punch, Colby & Ben-(we will always Love you!!)
Sooo Smart
Join Date: Mar 2008
Location: Georgia
Posts: 3,551
Submit Photo: 9
Photo Submissions 22 Times in 12 Posts
I think you may have to try to see what she likes. I have a SUV and a crate in the back and that is where Cicero seems to do the best. I guess he feels safe in his "nite nite". I got a car seat because "I" wanted him to ride up front and be able to see out. He hated it and got sick each time I put him in it -- so not safe for me driving and him throwing up in the seat. Sometimes I just let him lay in the seat and he naps and loves the ride if it's a short trip. When DH is driving he wants to be near him so I hold him in my lap....I know, not safe, but if we have an accident there is no safe place. I pray. I do mostly let him in his crate thinking that if we have an accident "maybe" the crate will not open and he will be in the best place. Maybe try different things because the best place is where your puppy is happy and relaxed -- and the driver doesn't get stressed or distracted trying to deal with the puppy.
---
Cicero trained Dale & Ronnie
Senior Member
Join Date: Mar 2008
Location: MA
Posts: 123
Submit Photo: 0
Photo Submissions 0 Times in 0 Posts
I wish I had an answer for this question. I am struggling with this myself. Suzy prefers to ride in my lap, screams in the crate and the car harness does not allow her to turn around for getting comfy. I looked at the doggie car seats but I am unsure if she will stay in one. I do place our child booster seat on the passenger front seat and she occasionally will sit in that.

If there is a magic solution I want to hear it! Any of the car seats preferable to another?
Senior Member
Join Date: Nov 2006
Location: Massachusetts
Posts: 11,746
Submit Photo: 27
Photo Submissions 48 Times in 35 Posts
For Long trips my boys are in their crates. But for short trips around time I let them roam in the back seat (small civic) Cash hated rides in the car and got sick and cried a lot. But we discovered he feels more secure on the floor in back and not the seat. Now he loves to "go for a ride"

How do the look out car seats work? are they strapped in or do they just stay in?




---
Missy, Jasper & Cash
Total Havanese Groupie
Join Date: Dec 2007
Posts: 2,639
Submit Photo: 7
Photo Submissions 37 Times in 16 Posts
I use my
Petflys
carrier with Posh. I just seatbelt her in. I think she now knows "in bag, will travel with mom". Here is a pic of Posh in her carrier.
Kubrick & Hitchcock's Mom
Join Date: Apr 2007
Location: New York, NY
Posts: 7,774
Submit Photo: 1
Photo Submissions 33 Times in 24 Posts
I do the same as Amy using my Celltei backpack. It has seatbelt straps and straps right into the car.
---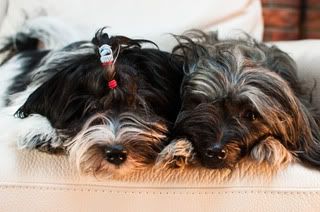 Visit
my blog

-----
Check out my
photos
-----
Photography (pets, people, weddings) -
TripleC Photography
Karen
Join Date: Nov 2006
Location: PA
Posts: 3,067
Submit Photo: 4
Photo Submissions 16 Times in 9 Posts
I use the Snoozer lookout car seat and it works great for us. Only problem is that I started Brady in the front seat (my airbag turns off) and he will not sit in it in the back alone. So, I am not sure DH is going to be happy sitting in the back while Brady rides upfront on our upcoming vacation. He is really good about staying in his carseat when we ride. He used to love sitting on my lap, but this seems to have solved that problem.
---
**Karen, Mom to Brady, Dugan, and Devon
and Murphy & Gracie too!
Join Date: May 2008
Location: Cumming, GA
Posts: 6,989
Submit Photo: 5
Photo Submissions 22 Times in 21 Posts
I have a travel crate/car carrier that is soft sided. I got it at either Wal-Mart or Target and it was inexpensive. I put Scooter in, zip it up, put it on the car seat and run the seatbelt through the carrier loop on top. He rides in the passenger seat but I only do this if I'm alone with him. Otherwise he sits with whoever is riding in the passenger seat and he falls asleep almost instantly. On our 7 hour trip to the beach we brought one of his soft beds and set it on the floor, he slept in that or my lap most of the way.
---
Ann-Scooter, Murphy, & Gracie's Mom
Luv My Biewer
Join Date: May 2007
Location: Rocklin, CA
Posts: 3,068
Submit Photo: 0
Photo Submissions 0 Times in 0 Posts
Some sort of restraint system is best. Some friends have the look out seat which their two love. Another uses a belt clip that attaches to their harnesses that they wear with their leashes.

I prefer a crate and luckily MeMe's really good in hers.
---
Northern California
Member BBCA (Biewerbci.org)



Home of VanLeigha Jr. Handlers
Posting Rules

You may not post new threads

You may not post replies

You may not post attachments

You may not edit your posts

---

HTML code is Off

---