Join Date: Jul 2008
Posts: 10
Submit Photo: 0
Photo Submissions 0 Times in 0 Posts
how much food?
---
How much should a 3 month old puppy be getting to eat?
How much should she weigh? When we got her she was 3#. Last night she was 5# (1 month we've had her).
Thanks.
Teelee
DesiLu's mommy
Kubrick & Hitchcock's Mom
Join Date: Apr 2007
Location: New York, NY
Posts: 7,774
Submit Photo: 1
Photo Submissions 33 Times in 24 Posts
5lbs sounds about right. Kubrick was 5.75lbs at 13 weeks. As far as how much to eat, make sure to feed her 3x a day and just follow the instructions on your food bag as to how much to feed a 5lb dog. As she gains weight, you will need to change how much you feed her based on weight. Also, eventually she should stop eating her 3rd meal regularly. Once that happens, it's time to go down to 2x a day.
---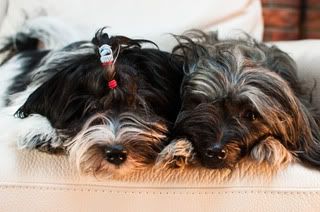 Visit
my blog

-----
Check out my
photos
-----
Photography (pets, people, weddings) -
TripleC Photography
Posting Rules

You may not post new threads

You may not post replies

You may not post attachments

You may not edit your posts

---

HTML code is Off

---