Join Date: Jul 2008
Posts: 20
Submit Photo: 0
Photo Submissions 0 Times in 0 Posts
Help puppy won't eat!
---
We just got our puppy yesterday, I gave her royal canin puppy 33 because that's what the breeder was feeding her and she didn't like it! So I mixed with some wellnes puppy (canned) and she only licked the wet food and left the kibble. Today she won't even eat the wet food she sniffs and backs up, I had samples of Innova puppy, solid gold just a wee bit, fromm chick a la veg, blue buffalo and she won't eat any of them!! I also tried some natural balance on top of the kibble ( the rolls) and nothing works!! I'm going nuts here! what can I do?? I called the breeder and she told me to give her eukanuba for puppies but it won't eat it either! Only wan'ts water and her toys. Please help!

Tatiana
Senior Member
Join Date: Jun 2008
Location: Olympia, Wa.
Posts: 1,477
Submit Photo: 0
Photo Submissions 6 Times in 6 Posts
I've been going through the same thing with my puppy.
We've had him a week and he is finally starting to eat regularly but I've been really stressed out trying to find something that he WILL eat.
What my puppies breeder recomended was that I buy some Nutri-cal from my Vets office to make sure that he's getting what he needs until he is eating better. I bought a tube and he loves it.
I would give him one tsp on my finger (a little at a time) three times a day to make sure that his blood sugar levels didn't get too low.
I fed him boiled chicken and rice for a couple of days along with the nutri-cal but I was worried that he wasn't getting proper nutrition and so I bought some Merrick "puppy Plate" wet food to add to his dry. I warm it in the microwave for 15 seconds and let it sit for a few minutes until the moisture is absorbed by the dry food.
He eats it pretty well but likes it even more if I sprinkle a little "Wildside Salmon" (freeze dried salmon) on top.
My puppies breeder told me that as long as he's playing and energetic not to worry. If he gets listless or sleeps all of the time to give him the Nutri-cal.
I hope that you can find something that works for your pup.
Join Date: Jul 2008
Posts: 20
Submit Photo: 0
Photo Submissions 0 Times in 0 Posts
I'm giving her the nutri-cal, but I also want her to eat! I hope tomorrow will be better. I also wet her food but doesn't work, well it did yesterday but not anymore! i used the wellnes canned. Also tried with warm water....
Thanks!
and Murphy & Gracie too!
Join Date: May 2008
Location: Cumming, GA
Posts: 6,989
Submit Photo: 5
Photo Submissions 22 Times in 21 Posts
We went through the same thing...he's great now but the weird little guy will only eat off the floor! I bought so many bowls but he seemed scared of them so we just put his food on the floor by his water dish and he eats it up. He also likes for one of us to stay with him while he eats, why I don't know. We put the food down, straggle a few pieces to make a little trail and he begins at the end until he reaches the big pile and eats it up. It took a few weeks to figure out what we needed to do but now he eats every meal! Don't give up, these guys have strange eating habits.

Best of luck to you!
---
Ann-Scooter, Murphy, & Gracie's Mom
Kimberly
Join Date: Aug 2006
Location: San Francisco Bay Area
Posts: 10,275
Submit Photo: 5
Photo Submissions 19 Times in 13 Posts
Tatiana, have you taken her to your vet yet?
Unless your veterinarian has stated otherwise, I would recommend that you take away the Nutrical and only offer her kibble (the same one the breeder has been giving) three times a day at the same times every day. She will eat when she is hungry if she recognizes it is only offered during those same times.

Try to refrain from any treats while she transitions to your home. Let her get used to regular feeding times and allow her to skip a whole day or even two (unless she is severly underweight for her age or if your veterinarian says otherwise). Most Havanese are picky, especially during times of transition.

If you are really worried and it has been a full day of not eating, you can add a tablespoon of hot water to the kibble - and then allow it too cool before giving it to her.
Join Date: Jul 2008
Posts: 20
Submit Photo: 0
Photo Submissions 0 Times in 0 Posts
Yes I'm taking her to the vet this afternoon, This morning she ate a little out of my hand, If the vet tells me it's ok to do what you say ( kimberly) I willll definately going to do that, I really want her to learn that she has to eat on the schedule!!
Tatiana
Join Date: Jun 2008
Posts: 127
Submit Photo: 0
Photo Submissions 0 Times in 0 Posts
Quote:
Originally Posted by
Scooter's Family
View Post
he's great now but the weird little guy will only eat off the floor! I bought so many bowls but he seemed scared of them so we just put his food on the floor by his water dish and he eats it up. He also likes for one of us to stay with him while he eats, why I don't know.
Casey is a carbon copy of Scooter! She will not eat out of the bowl. We have to put it on the floor, or roll the kibble to her one at a time. Sometimes we use one of those treat balls where one little treat (kibble) falls out as the ball rolls. We also have to be with her in order for her to eat. This is a huge difference from my retreivers who are ravenous eaters...you'd swear we starved them!
Casey is still not a great eater...unless she gets human food, then she is happy, happy!
Sooo Smart
Join Date: Mar 2008
Location: Georgia
Posts: 3,551
Submit Photo: 9
Photo Submissions 22 Times in 12 Posts
My family and friends are enjoying getting the bags and cans of dog food -- and Cicero is happy to see it go.
He has been a little mutt trying to find the food -- and the way -- to get him to eat. He would eat dry only from my hand, but NO, I don't want to do that for 15 years!! He likes our people food -- so I started putting a little chopped chicken, or hotdog, or cheese on top of his dog food. It seemed that once he got started with something good he would continue eating. Finally, at 7 months, I think we have got him figured out with the food -- hope I am not speaking to soon. It does help to only leave the food down for a few minutes at each meal -- and keep the treats very small. Good Luck.
---
Cicero trained Dale & Ronnie
Kubrick & Hitchcock's Mom
Join Date: Apr 2007
Location: New York, NY
Posts: 7,774
Submit Photo: 1
Photo Submissions 33 Times in 24 Posts
Tatiana, I agree with Kimberly 100% on this one. You are catering to the puppy and shouldn't give in, unless the vet says that she is underweight or unhealthy. Kubrick does not eat very much during transition periods. A lot of puppies feel overwhelmed with a new home and refuse to eat. When I went to visit my mom in California, Kubrick went days without eating and then he would eat only 1/2 a bowl of kibble. I knew he wasn't starving himself, so I just let it go. Once we got back home he was eating normally again. I'm not saying that your puppy will never get used to your house, only that they do have an adjustment period. I definitely understand that you're worried and don't want to see her starve but again, if there is no health issue, she definitely will NOT starve herself and will eat when she's hungry.

Good luck and let us know what the vet says!
---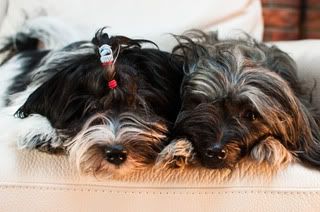 Visit
my blog

-----
Check out my
photos
-----
Photography (pets, people, weddings) -
TripleC Photography
mollie and Bailey's Mommy
Join Date: Mar 2008
Location: New Jersey
Posts: 634
Submit Photo: 3
Photo Submissions 3 Times in 3 Posts
I agree with Lina. Mollie is a fussy eater and I even told the vet that she will go a couple days without eating and I would freak and start giving her boiled chicken in her food so she would eat the hard dog food . the vet told me that a dog will not starve themselves and would eat by the third day and she did. he said they usually do not go more then 3 days without eating. When we go away with Mollie she hardly touches her food but by the third day she eats everything on her plate. so dont worry I know it hard I always got upset when she was a puppy when she would not eat but now I am so use to her habits.
---
Hugs and have a Hava day!
Elizabeth,Mollie and Bailey
Posting Rules

You may not post new threads

You may not post replies

You may not post attachments

You may not edit your posts

---

HTML code is Off

---