Member
Join Date: Jun 2008
Location: Fishers, Indiana
Posts: 72
Submit Photo: 1
Photo Nominations 1 Time in 1 Post
An addendum to "NelsonganDaughter"'s post, Sleeptime Problems
---
I posted this as a reply to her post too, but wanted to post it in a new thread so you all would be sure to see it:

Hi everyone....thanks to everyone for giving my daughter such wonderful advice! She is a bit precocious and probably types faster than I do!! Anyway, I had no idea that she had signed up for an account AND posted on here until she showed me last night! I told her first of all, that she needs to ALWAYS ask first before she does something like that, and secondly, that this website is really for adults, not kids. But I suppose if she really has a legit question in regard to Summer or Sammy, she could post it...with my knowledge...if you all do not mind

Now, onto MY problem. It has been 12 days now since we have gotten Sammy and the howl barking, howling, whining, etc. problem at night has not gotten any better no matter what we have tried. And I am literally talking he does this for hours on end...with little 5 min breaks here and there. We put the crate in our room close to the bed at bed level....didn't work and hubby and I could not get ANY sleep. I have put a comfy little blanket and a soft toy in with him, and covered it with a towel but have not tried a soft shirt or something with my scent yet. We have resulted in putting his crate downstairs in the family room (which is directly under our bedroom) and we have to shut our door and turn on our bathroom fan and we can STILL hear him!!! I just don't know what to do. I am becoming so frustrated because I thought by now he would be feeling more comfortable with it. I know you all have given out all the advice you have thus far, so I guess more than anything I am just venting. Thanks for listening!
---
Jen, Summer & Sammy
Katie
Join Date: Sep 2006
Location: Rocklin, CA
Posts: 2,217
Submit Photo: 1
Photo Submissions 18 Times in 14 Posts
Hello and welcome to both you and your daughter!
My question would be....are you actually leaving him down there howling all night or are you giving in and letting him out or bringing him to bed iwth you?
Be sure to really wear him out before bedtime. A good long 30 min play session (we used to play chase in the hallway before bedtime) should help wear him out.
I had a puppy that would howl and scream for 25-45 min before settling down at night. And yes, this went on a for a good solid 2 weeks. But I didn't give in. I just let him howl and scream. What I would do is put him to bed about 30 min before I went to bed. Then that way most of his screaming wasn't while I was trying to fall asleep! I would "shhhhh" (loudly) to get him to quit. Eventually, day by day, he would fuss less and less and then he was finally sleeping thru the night.
I think the hint is to just not give up or give in (as HARD as that is!)
Best of luck!
---
Katie
www.MopTopHavanese.com
Paws.....and reflect on what life has given you~
Sierra & Baileys servant
Join Date: May 2007
Location: Maastricht, the Netherlands
Posts: 1,125
Submit Photo: 10
Photo Submissions 23 Times in 13 Posts
Welcome!
I really appreciate your post! You can't be too careful these days when it comes to the internet!
Nevertheless, you can be sure that your daughter will be treated fairly, respectfully and seriously on this forum. It's a very warm and welcoming place... Of course there are many lurkers we do not know...and just please warn her about any pm's she might get from silent "sign ups"(ppl who are hardly/not involved in the forum), after all, it is a public forum, anyone can read her post, anyone can read her age....maybe you can have her edit her post and omit it. Someone with malintentions could sign up after reading it and well, you know the rest...
As for all the "veterans" on here... people have come to know each other closely through their love for the hav, online and in real life! The many playdates are enthusiastic proof of that!
Take care, and we hope to hear and see more
Suzanne
---
Last edited by Suuske747; 07-30-2008 at

05:38 PM

.
Kimberly
Join Date: Aug 2006
Location: San Francisco Bay Area
Posts: 10,275
Submit Photo: 5
Photo Submissions 19 Times in 13 Posts
Welcome to the forum, Jen!

I think the only way to get through this is persistence and time. Katie already wrote out what I would do. Definitely exercise him a lot in the evening and get rid of any extra energy so he needs to sleep. It will come with time. It is just hard to believe in those first nights when you keep doing it and it doesn't seem to get better.
Sooo Smart
Join Date: Mar 2008
Location: Georgia
Posts: 3,551
Submit Photo: 9
Photo Submissions 22 Times in 12 Posts
We were lucky with Cicero not crying, but 17 years ago we got a little Pom that cried every night -- till I put her in our bed -- where she stayed. Yep, we were soft and she won. I do like the crate better as I can get a good nights sleep. I agree with chasing them around to get them really tired. We put our dirty socks in the crate with Cicero and I do think that helped. I have heard that if you put a wind up clock by the crate so they hear the tick-tick it will remind them of their mother's heart beat and calm them down. I have found out that if you completely ignore bad behaviors most will go away.
---
Cicero trained Dale & Ronnie
Susan
Join Date: Feb 2007
Location: Near San Francisco Bay Area
Posts: 4,063
Submit Photo: 2
Photo Submissions 2 Times in 2 Posts
Jen, welcome to the forum. You and your daughter are both welcome here.
I second everyone else who suggests wearing him out before bedtime. A tired puppy is a good puppy! That and repeating the puppy owners mantra...."this too shall pass, this too shall pass....."
Good luck!
---
Susan
Member
Join Date: Jun 2008
Location: Fishers, Indiana
Posts: 72
Submit Photo: 1
Photo Nominations 1 Time in 1 Post
Thanks all....I appreciate the continued advice & wisdom!
Katie...I wanted to let you know that no, we absolutely are not giving into him by entertaining his crying & barking. And I know some of you mentioned tiring him out. We have done our part with that as well. We took Summer and Sammy on a morning and an evening walk today...the latter being about a mile. His poor little puppy legs couldn't carry him quite that far so about a 1/4 of the way back I held him.
I was sure we wore him out good today, but as I sit and type this in bed, I can hear him down there barking away
I am hoping that maybe if he is more tired tonight he will settle down a bit more and actually go to sleep.
---
Jen, Summer & Sammy
Kubrick & Hitchcock's Mom
Join Date: Apr 2007
Location: New York, NY
Posts: 7,774
Submit Photo: 1
Photo Submissions 33 Times in 24 Posts
Jen, have you tried wearing him out right before bed? As in 30 minutes before putting him in the crate play really hard with him. I think also that moving his crate around so much as it seems you have been doing is making him more upset. I know that any change in the location of the crate for Kubrick had to be very slow (as in inches) so he wouldn't flip out. All these changes are probably confusing and scaring Sammy.

Why don't you try putting him on a crate at eye level next to your bed after wearing him out a lot and then make sure you don't have to go to bed for about 20 minutes. However, sit on the bed reading or whatever. Stick your fingers in when he cries but don't give in and make sure to say Shush, go to sleep or whatever in a firm voice. Because you've been moving him around so much he might take longer than usual to quiet down. Buy earplugs. We just got Kubrick back used to the crate (he used to sleep in the crate and then he was on our bed for the last 6 months and now we just want to make sure that he can sleep in the crate when we need him to) and it took about 3 days of 2 hours of crying before he would go to bed. We used earplugs all night. It sucked a lot but by the 3rd day he only whimpered for maybe 5 minutes and then went to sleep. The 4th night there wasn't a peep out of him. The only way he would completely quiet down would be if I stuck my fingers through the bars. Sammy is still very young, he definitely should be in the bedroom with you as he doesn't understand what's going on.

Once he gets used to the crate then you can start slowly moving it to wherever it is you want it to be. Kubrick used to sleep in a crate right outside our bedroom door and was fine with it since we went from next to the bed to outside the bedroom with the door closed very slowly. Just be consistent, don't give in, and I will say it again, wear earplugs. Seriously, there's no easy way out and you might have a couple of sleepless nights but in the end he will get used to it if there's no other way around it.
---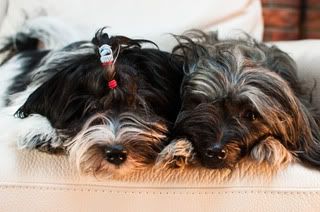 Visit
my blog

-----
Check out my
photos
-----
Photography (pets, people, weddings) -
TripleC Photography
Posting Rules

You may not post new threads

You may not post replies

You may not post attachments

You may not edit your posts

---

HTML code is Off

---