Castro's Momma
Join Date: Jul 2008
Location: Earth
Posts: 260
Submit Photo: 4
Photo Submissions 0 Times in 0 Posts
I have a Jumper!
---
After 5 weekdays of doggy day care, we decided to leave Castro at home for about 6 hours yesterday.

I was a bit apprehensive about leaving Castro alone, but as the hubby said, he would have to eventually learn to be alone. We set up the kitchen for him, and put up a solid plastic baby/security gate that was about 30" tall.

Well, I put the key into the lock, and as I opened the door, I heard little feet from upstairs and saw Castro running down the stairs to greet me! He was OUT OF THE KITCHEN!

After doing a quick recon for accidents, I was pleasantly surprised that it was minimal - he left a small "tootsie roll" a few inches away from another pad we left for him upstairs.

We are still scratching our heads trying to figure out how he did it- but he did.. There was NO OTHER WAY he could've gotten out of the kitchen!

Are there any other "Havanese Houdinis" in this forum? Any suggestions (aside from getting a taller gate)?
Senior Member
Join Date: Jul 2008
Location: South Fla
Posts: 2,815
Submit Photo: 1
Photo Submissions 10 Times in 10 Posts
Believe it because some dogs are just naturally good climbers. My aunt's 8 week old shih tzu cleared a very tall gate with ease! I'm sure Castro had a great time and was very pleased with himself, yet was polite enough not to wreck anything.
and Murphy & Gracie too!
Join Date: May 2008
Location: Cumming, GA
Posts: 6,989
Submit Photo: 5
Photo Submissions 22 Times in 21 Posts
We have 3 different height gates for sale...Scooter can JUMP!!! You can't help but laugh though. We had to put a separate clip on his crate because he can get out of that. I told DH we'll have to have a room with a solid steel door to keep him in! Funny thing is, all of these things make him even more endearing!
---
Ann-Scooter, Murphy, & Gracie's Mom
Join Date: Feb 2008
Posts: 696
Submit Photo: 5
Photo Submissions 0 Times in 0 Posts
Kona has always been a bouncy, jumpy, hav. All his videos have him bouncing bouncing. I should have named him TIGGER!!!
HAHA
His latest escape or should I say ENTRANCE act is getting into the bathroom. (Picture it with me now)
Close the bathroom door, make sure it's shut tight.......
Hear something knocking.......check the front door... noone there.
Walk down the hallway and see a LONNNNNNNNNNNNNG trail of toilet paper.
What do I find at the end of it??? KONA!!! He can open the bathroom door and loves the toilet paper, not used kind (Thank GOODNESS) but the kind on the roll... .it's fun for him!
Edited 5 min. later to give you proof in point.......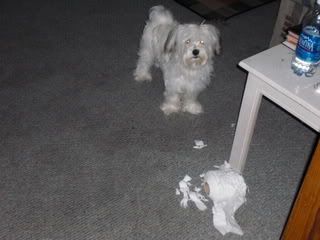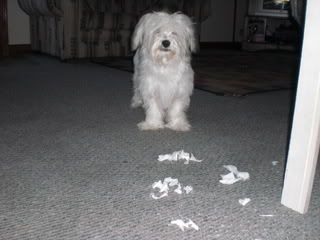 ---
Last edited by SmittenHavaneseMommy; 09-12-2008 at

07:10 PM

.
Join Date: Jun 2008
Posts: 127
Submit Photo: 0
Photo Submissions 0 Times in 0 Posts
Twice now we have left Casey in her exercise pen, only to have her greet us at the door when we returned home. To date she has not destroyed anything, but I am not naive enough to think she never will. I really do need to get some kind of cover for the pen.
(and Taylor Too! )
Join Date: Apr 2007
Location: Dallas
Posts: 1,243
Submit Photo: 1
Photo Submissions 3 Times in 3 Posts
Capote is a jumper. He started jump/climbing over his gate about 4 months ago and I had to change out the gate. Since I got the new one he hasn't been able to jump it cause he cant get his back feet in any holes to help give him leverage.
This is the old one..
This is the new one..
They're both on Target.com.
---
Mindy
Posting Rules

You may not post new threads

You may not post replies

You may not post attachments

You may not edit your posts

---

HTML code is Off

---