Member
Join Date: Jul 2008
Location: NYC
Posts: 45
Submit Photo: 0
Photo Submissions 0 Times in 0 Posts
Momo was spayed last week!
---
Momo was spayed last week and has her stitches removed yesterday. However, I've just realized that there are still some left over stitches on her (see last pic). The vet's reason was that some times left over stitches will only pop up a day or two later. Is this normal?

P/S: It seems to me that the vet did a poor job on Momo. Aren't suppose to use those invisible stitches where it dissolve itself?

Please advise.
Kubrick & Hitchcock's Mom
Join Date: Apr 2007
Location: New York, NY
Posts: 7,774
Submit Photo: 1
Photo Submissions 33 Times in 24 Posts
I'm not sure about stitches "popping up" as I've never heard of that before but just because your vet didn't use dissolvable stitches, does NOT mean he didn't do a good job. My vet uses regular stitches and Kubrick's neuter had no problems and he healed very well. I hope Momo feels well!
---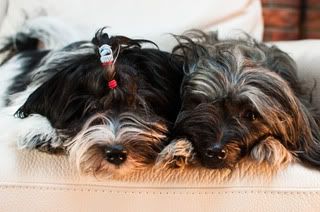 Visit
my blog

-----
Check out my
photos
-----
Photography (pets, people, weddings) -
TripleC Photography
Senior Member
Join Date: Jul 2008
Location: South Fla
Posts: 2,815
Submit Photo: 1
Photo Submissions 10 Times in 10 Posts
We are going to be visiting the vet for a spay in another month! Call them and ask about the stiches. I'm sure they know what they're doing so don't worry.
Feel better Momo!
Member
Join Date: Jul 2008
Location: NYC
Posts: 45
Submit Photo: 0
Photo Submissions 0 Times in 0 Posts
Thanks guys! The left over stitches came out eventually without any help. Another problem just arise. There is a swelling of a size a little bigger than walnut off to the side of her incision. It doesn't seem to bother her at all.

I brought her to the vet today and was that it might be a muscle reaction or a hernia. Momo was given an injection to reduce her swelling and antibiotic. I had to bring her back to the vet on Tuesday so that they could check on the swelling. I was also told that if the swelling remains, there's is a big possibility that Momo would required another surgery.

I've have been doing my best to keep her quiet, but she just jump on/off the couch and bed. I just hope that she would be a good girl not jumping around too much for now so that she could get back to normal. Sigh....
Suzy and Cazzie
Join Date: Nov 2007
Location: Up North & Down South
Posts: 796
Submit Photo: 0
Photo Nominations 1 Time in 1 Post
Regarding the stitches, glad all is well with Momo now. Cazzie was neutered last December at 10 months. The stitches were supposed to be self-dissolving. We had left for our winter place in Florida and I noticed that the stitches were remaining and were close to the skin and getting inflammed. Our vet in Florida had to remove them with tweezers. Cazzie cried and I cried. Although the vet in Florida didn't come right out and say our other vet did a poor job, he did say that the stitches were too close to the skin. BTW, I've used the vet who did Cazzie's surgery for over 20 years and this is the first time something like this happened. Don't know if he was careless, or let one of his assistants do the stitching or if it was just one of those things. Suzy
---
Sweet Chelsie Coton
Posting Rules

You may not post new threads

You may not post replies

You may not post attachments

You may not edit your posts

---

HTML code is Off

---