A boy or a girl?
---
Are there known temperamental differences between girl and boy Havanese?

It seems to me it would be a little easier to keep a girl using pee pee pads and the outside because they don't lift their legs.

However, temperament is much more important. I know it depends upon the dog but is there a general consensus?

Thanks.

Louise
and Murphy & Gracie too!
Join Date: May 2008
Location: Cumming, GA
Posts: 6,989
Submit Photo: 5
Photo Submissions 22 Times in 21 Posts
When I asked our breeder about that she told me to visit with the puppies and then she told me about them as we played with them. After seeing them all our choice was easy!
---
Ann-Scooter, Murphy, & Gracie's Mom
Senior Member
Join Date: Apr 2007
Location: SF area
Posts: 6,425
Submit Photo: 63
Photo Submissions 62 Times in 48 Posts
I agree with Ann

I went in thinking I wanted a dark (no tear stain) girl etc........
I fell in LOVE with Oliver and I am sooooooooooo happy I did!
---
Sally,((Oliver)) Comet and Pennie too!
The best things in life are not things!
Senior Member
Join Date: Nov 2006
Location: Massachusetts
Posts: 11,746
Submit Photo: 27
Photo Submissions 48 Times in 35 Posts
They always say...girls love you, but boys are in-love with you. Having two boys who are very independent I am not sure this is true based on the stories of those that have girls on the forum.
I wouldn't worry too much about lifting the leg... both my boys were pee pad trained (now, they would prefer to hold it to go out even though they have their own potty room
) But I have noticed with my boys, even outside...when they go to relieve themselves they just delicately lift one leg slightly off the ground so it does not spray...but when they are leaving a calling card for another dog, say on a tree or hydrant they do the full lift of the leg. And they both do it this way!
I will say this about boys...I do think they may be easier to potty train. I think they just have bigger bladders.
---
Missy, Jasper & Cash
Senior Member
Join Date: Apr 2007
Location: Long Island, New York
Posts: 8,941
Submit Photo: 3
Photo Submissions 41 Times in 25 Posts
Even though they say that male havs are mushier and fall in love with you, I think it's so dependent on the temperament of the specific dog. For me, I wanted a little sable girl and wound up with Milo, a tri color irish pied little man and the light of my life. Then when the time was right (or maybe not quite so right) I told the breeder if she had a very special little girl I wanted to add one to the family. She emailed me when she had one. For some reason, fate no doubt, her email never reached me and when I finally did see it the sweet, beautiful little girl was on her way to her forever family. I was devastated, but a very short time after that I happened upon a photo of Bailey and knew in an instant he was the one. So my second attempt at a girl wound up getting me the most adorable, loving little boy who has me wrapped neatly around his little paw. In retrospect would I do it any differently? Absolutely not. I am, after all, in love.
---
<b>Just Milo and me, and . . . </b>Bailey makes three . . . until Ruby said, "hey, what about me?"
Geri, Milo, Bailey and HRH Princess Ruby Tuesday
If you're thinking of getting a puppy, click here
http://www.photoshow.com/watch/YK8AH4rw
Kubrick & Hitchcock's Mom
Join Date: Apr 2007
Location: New York, NY
Posts: 7,774
Submit Photo: 1
Photo Submissions 33 Times in 24 Posts
heh, this argument is everywhere on this forum... people have been discussing it forever. I do think it can change from dog to dog but every breeder I have spoken to (ones I really respect) have ALL reiterated that, yes, it's true that boys are more attached to you whereas girls are more aloof (in love vs. loving you), which can make boys easier to train - they really want to please you. Of course, that's a total general statement and you will find exceptions to the rule, just like you would with many rules! For example, everyone here will tell you to give your dog chicken and rice when he has soft stools but with Kubrick it doesn't help at all. That doesn't mean it won't help in 95% of cases, right? Just my own personal opinion.

Also, Kubrick still squats to pee to this day and is not a marker. In fact, I've never ever seen him "mark" anything. So that's totally dependent on the particular dog as well.
---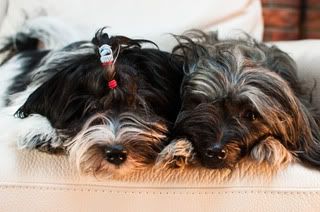 Visit
my blog

-----
Check out my
photos
-----
Photography (pets, people, weddings) -
TripleC Photography
Lincoln and Scout's Mom
Join Date: Jun 2007
Location: San Francisco Bay Area, CA
Posts: 3,650
Submit Photo: 1
Photo Submissions 8 Times in 8 Posts
I love my boys. I'm biased though!
---
Jane
Amanda
Join Date: Nov 2006
Location: South Carolina
Posts: 9,576
Submit Photo: 2
Photo Submissions 31 Times in 22 Posts
I also was one who didn't believe the breeders and others, until I got my boy!!! Dora is very loving and really is way more loving than a lot of Neezers I meet, I wake up every morning with her on my chest. But Dash puts her to shame! I also was very concerned about marking though as well. Dasher is being shown and actually intact (which is known to make marking way worst) and the only time I ever see him mark is after we have been around a dog that marks. It really is a learned behavior. But for instance, I was at a friend's house whose dogs are both markers and Dash decided to mark with them. Then when my fur-nephew was over, Dash marked behind him. But I just give my little stop what you are doing sound and he forgets about it. But we go on walks and Dash doesnt pee the entire time. Neither do my girls (one of which marks just as much as Dash), I just don't let them get away with it.
Senior Member
Join Date: Nov 2006
Location: Long Island, NY
Posts: 8,619
Submit Photo: 3
Photo Submissions 19 Times in 19 Posts
Kodi is much more of a lover than Shelby is. He is the one you will find on my lap, or laying on my chest in bed. He gives me little kisses. It seems since I started working full time, he likes to spend more time in my lap. Shelby is very loving, but in a different way.
---
Michele
Kodi & Shelby's Mom and Julian's Grandma
Senior Member
Join Date: Sep 2006
Location: Kentucky
Posts: 2,166
Submit Photo: 5
Photo Submissions 8 Times in 4 Posts
Quote:
I love my boys. I'm biased though!
Me too, I guess the fact that I have four boys, speaks for itself.
---
Peace, Love & Havanese
Posting Rules

You may not post new threads

You may not post replies

You may not post attachments

You may not edit your posts

---

HTML code is Off

---