Sharlene
Join Date: Dec 2008
Location: South Carolina
Posts: 3,098
Submit Photo: 3
Photo Submissions 9 Times in 8 Posts
Jumping up/off things. When?
---
I see in some pics puppies up on couches. Evye is too small to jump up on the couch (she tries) so I assume she is too little to jump off without getting hurt. When is it okay to let her up on the couch or bed? Are they good jumpers and I just don't know it? My bed is very high and I'm afraid she'll fall/jump off and get hurt. I don't know too much about puppies so I was going by the philosophy if she can't jump up on it, she can't jump off it. Or, am I being toooooo cautious and missing out on a lot of puppy fun.
Senior Member
Join Date: Oct 2008
Location: Florida
Posts: 1,814
Submit Photo: 1
Photo Submissions 2 Times in 2 Posts
Evye is so adorable!!!!!! That was a good question, and I have been wondering about that myself. I let Marble jump on the couch when he could jump up, but like you, I'm worried about the bed. We have a few beds that are very high, and I don't know what height they can safely jump from without injuring themselves and their hips, knees, etc. Perhaps some of the others will know.
Gina
---
Amanda
Join Date: Nov 2006
Location: South Carolina
Posts: 9,576
Submit Photo: 2
Photo Submissions 31 Times in 22 Posts
Quote:
going by the philosophy if she can't jump up on it, she can't jump off it.
I think that is perfect to go by. Mine are now adults but I always think of what could happen to my adult body if I jumped off something 10x my height... not good. We have a little footstool near the couch the dogs use and we have one for the bed too. But as puppies, I really try to not let them jump period. They can really hurt their growth plates.
---
Last edited by ama0722; 01-12-2009 at

08:18 AM

.
The 3 Amigos
Join Date: Nov 2007
Location: Toronto, Ontario
Posts: 2,108
Submit Photo: 10
Photo Submissions 7 Times in 5 Posts
Personally you shouldn't allow your puppy to jump off the couch unless it's on some very soft carpet. Their bones are still developing and jumping from a couch onto a hard floor is definitely not good. I made sure my guys didn't jump off the couch until around 6-8months.
---
Chances are if your parents never had kids...you won't either...
Jackie, Sophie's Mom
Join Date: May 2008
Location: Grand Rapids, MI
Posts: 529
Submit Photo: 5
Photo Submissions 0 Times in 0 Posts
Sophie is a great jumper...but I do worry about her jumping down from the bed onto our hardwood floors. I really need to get her some steps...
---
Unconditional love!
Senior Member
Join Date: Aug 2006
Location: Lake Gaston, N.C.
Posts: 3,262
Submit Photo: 0
Photo Submissions 29 Times in 29 Posts
Our rule of thumb is that they are not allowed to jump off of anything that they can't jump up on to. It's especially important that children understand this because sometimes they forget.

Yes, they are very good jumpers.
Benji and Lizzie's Mom
Join Date: Jun 2007
Location: New Jersey
Posts: 4,086
Submit Photo: 0
Photo Submissions 6 Times in 5 Posts
The First Jump
---
Evye is so pretty. You have to be careful until their bones are strong. I was very careful until they were 10-11 months old. If you don't mind them jumping on the sofas or beds, you can supervise their jumping activities and let them enjoy, explore, be adventurous. It is a lot of fun to watch all the "Firsts".

I supervised Benji and Lizzie when they started to jump at about 4 1/2-5 months. Jumping on hardwood / laminate floors is a NO-NO at our home. Benji is very agile and jumps fearlessly. He once jumped almost 6 feet (from our deck onto the lawn to herd puppy Lizzie back into the house, my heart was in my mouth when I saw that !) Lizzie is not as adventurous in jumping, she hesitates even jumping from familiar sofas and our bed.

Here is Lizzie's first jump. She was so smart to realize that she couldn't jump on the couch from the floor. So she had a plan....



---
Best, Poornima
Sooo Smart
Join Date: Mar 2008
Location: Georgia
Posts: 3,551
Submit Photo: 9
Photo Submissions 22 Times in 12 Posts
Poornima, that is so cute and what a cute little butt!!
I remember how excited I got when Cicero first learned to jump on the sofa, but he was afraid to jump down. He learned to use his nose to push a pillow off the sofa, them jump down on it.
It's fun to see their little brains working.
---
Cicero trained Dale & Ronnie
Join Date: Jun 2008
Posts: 127
Submit Photo: 0
Photo Submissions 0 Times in 0 Posts
When lil' Evye is big enough to jump up on the coach/bed, don't forget to train her to only do so when invited! Casey is very obedient in this regard and I love that. (It makes her seem so 'polite' -- LOL!)

Have said that, my goodness your little pup is the cutest little thing EVER!
Kubrick & Hitchcock's Mom
Join Date: Apr 2007
Location: New York, NY
Posts: 7,774
Submit Photo: 1
Photo Submissions 33 Times in 24 Posts
My rule was also jump off when you can jump on. However, we still let him on the couch when he couldn't jump onto it himself (the first time he ever did it was 6 months!), we just made sure to watch him very closely and if he even LOOKED like he wanted to get off, we'd set him down ourselves. It worked for us.
---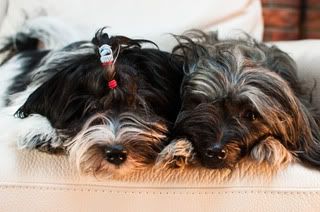 Visit
my blog

-----
Check out my
photos
-----
Photography (pets, people, weddings) -
TripleC Photography
Posting Rules

You may not post new threads

You may not post replies

You may not post attachments

You may not edit your posts

---

HTML code is Off

---