Join Date: Jan 2009
Posts: 40
Submit Photo: 0
Photo Submissions 0 Times in 0 Posts
About to bring home my new puppy
---
Hi, I'm Breanna. I'm delighted to have found this forum. I'm bringing home my new Havanese puppy the first week of February. I've been reading about these dogs for months, just devouring all the information I can find.

My profile picture is of my little guy at 7 weeks. He'll be 11 weeks when I bring him home. I have been just quivering with excitement since I went to pick him out at the breeder's house two weeks ago. I'm looking for all the advice I can get about how to train him, any issues to watch out for, etc.

Thanks!
and Murphy & Gracie too!
Join Date: May 2008
Location: Cumming, GA
Posts: 6,989
Submit Photo: 5
Photo Submissions 22 Times in 21 Posts
So happy to have another puppy to watch! Everyone here loves photos so post as many as you can. Your profile photo didn't show up. Where are you from? Have you bought all of your "puppy stuff" yet?
WELCOME! You'll get tons of great advice from the knowledgeable people here!
---
Ann-Scooter, Murphy, & Gracie's Mom
Kubrick & Hitchcock's Mom
Join Date: Apr 2007
Location: New York, NY
Posts: 7,774
Submit Photo: 1
Photo Submissions 33 Times in 24 Posts
Hi Breanna and
to the forum! You little one looks so cute! Do you have any other pictures to post? Profile pics are so small...
---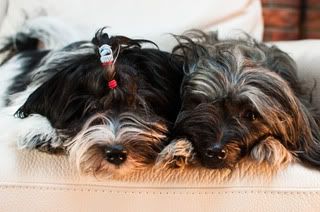 Visit
my blog

-----
Check out my
photos
-----
Photography (pets, people, weddings) -
TripleC Photography
Senior Member
Join Date: Jan 2007
Location: Toronto, ON, Canada!
Posts: 4,155
Submit Photo: 0
Photo Submissions 16 Times in 6 Posts
Welcome to the forum!

Ryan
---
Bugsy's Mom
Join Date: Nov 2006
Location: San Francisco, CA
Posts: 4,341
Submit Photo: 3
Photo Submissions 6 Times in 5 Posts
to the forum Breanna.
---
-Julia
Senior Member
Join Date: Oct 2008
Location: Twin Falls, Idaho
Posts: 6,255
Submit Photo: 11
Photo Submissions 53 Times in 50 Posts
Welcome, Breanna! I love your name, too--it's the same as my daughter's!
---
Sheri, Tucker's Mom
Senior Member
Join Date: Jul 2008
Location: South Fla
Posts: 2,815
Submit Photo: 1
Photo Submissions 10 Times in 10 Posts
He's adorable. Do you have a name picked put yet??

Beth and Pixie Puff
Join Date: Jan 2009
Posts: 40
Submit Photo: 0
Photo Submissions 0 Times in 0 Posts
Thanks so much for the welcome!
I think I'm going to name him Meepo. I fixed my profile pic so it would actually show up under my name
Here's more pictures. My breeder's camera is a little iffy, so they're not the greatest. He's way cuter in real life!
The last picture has him with his sisters and mom in their ex-pen.
Senior Member
Join Date: Apr 2007
Location: SF area
Posts: 6,425
Submit Photo: 63
Photo Submissions 62 Times in 48 Posts
Welcome. He is adorable
---
Sally,((Oliver)) Comet and Pennie too!
The best things in life are not things!
Colleen and the boys
Join Date: Dec 2008
Location: Maryland
Posts: 391
Submit Photo: 4
Photo Nominations 1 Time in 1 Post
Welcome to the forum and you will find lots of good info here and lots of love, laughs and great people. Your puppy looks so much like my Simba who I think is adorable!!! Can't wait to watch your puppy grow!! Pictures, pictures and more pictures after you get him.
---
Last edited by sweater32; 01-24-2009 at

11:13 PM

. Reason: for some words
Posting Rules

You may not post new threads

You may not post replies

You may not post attachments

You may not edit your posts

---

HTML code is Off

---