Training for inside and outside - how?
---
I live in the city and decided to train Ellie to use a pee pad in the house OR go outside when I took her out. I ended up finding the UGODOG, use it with a pad, and thus the inside is very easy for me.

This allows me to take her out for a walk or to play, but I have no specific schedule I need to follow and she simply pees and poops indoors - occasionally outside.

She is now 6 months old and "mostly" trained to the pads.

I'm now faced with a problem I didn't anticipate. What happens when I want to bring her to other people's houses? I don't want to arrive everywhere forever with my dog and a wee wee pad - and most of my friends wouldn't appreciate it very much either.

Any ideas about how I might get her oriented toward the outside? She seems not to be very interested at all although she loves to go for a walk, meet other dogs, etc.

I would like to be able to have her continue to use the pads in my house - but know that you have to use "outside" when you're in other houses.

Louise
Gucci's mom
Join Date: Feb 2007
Location: Virginia Beach, VA
Posts: 9,378
Submit Photo: 1
Photo Submissions 12 Times in 11 Posts
She is adorable!
Well, I would try the treat/heavy praise every time she goes outside, and if you have a good idea of her potty schedule by now, start at home taking her out and tell her 'go potty' or whatever training word you used to train her to the pads,
I find they learn very quickly. Gucci goes both on the pads and outside, but she is the opposite, she prefers the outdoors and will boycott the pad at my office and sometimes in hotels, she'll whimper and whine til' I figure it out to take her outside.
Just, when you go visit someone, take her out about 10 minutes after getting there (or sooner, even before knocking on the door) and bring her favorite treats to give her, they are super quick learners
with the right *motivation*
---
Super Moderator
click to join us: Havanese Forum on Facebook
Senior Member
Join Date: Aug 2006
Location: Lake Gaston, N.C.
Posts: 3,252
Submit Photo: 0
Photo Submissions 26 Times in 26 Posts
Teach her to go by command such as "go potty", "hurry up", or "find your spot". Only use one that you want to use.
Member
Join Date: Jun 2007
Location: Bloomington, IL
Posts: 32
Submit Photo: 0
Photo Submissions 0 Times in 0 Posts
I found myself in the same position over the holidays. Lucy is trained to go on pup grass and outside. She prefers to go outside but refuses to go in the snow. The pup grass has been a blessing this winter.
We don't like to leave her home alone for very long so over the holidays we took her along with us to Thanksgiving at my aunts and Christmas at my boyfriends parents. I was so worried that she was going to potty in their houses, but she did fabulous. I took her before we went inside their homes and kept a very close eye on her. I also took her out every hour which I'm sure she found annoying since it was negative degrees and she isn't to interested in doing the deed in grass covered with ice. We didn't have any accidents though
We still have potty training issues at home that we continue to work on but I think she was smart enough to know that going potty in somebody elses house is really really wrong!
---
Lucy & Nicole
In the house I use the command "go potty". I do this when she is so excited (first thing in the morning, or right after I've come home), that she will suddenly pee if I don't remind her what she's supposed to do next.

Should I use the same "go potty" command outside or should I use different words?

Thanks.

Louise
Kubrick & Hitchcock's Mom
Join Date: Apr 2007
Location: New York, NY
Posts: 7,774
Submit Photo: 1
Photo Submissions 33 Times in 24 Posts
Use the same words outside as inside.
---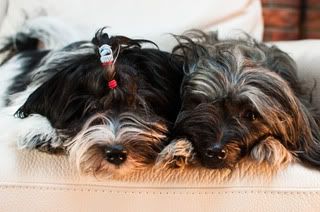 Visit
my blog

-----
Check out my
photos
-----
Photography (pets, people, weddings) -
TripleC Photography
Senior Member
Join Date: Aug 2006
Location: Lake Gaston, N.C.
Posts: 3,252
Submit Photo: 0
Photo Submissions 26 Times in 26 Posts
Yes, that's what I was talking about. Being consistant is important. Now just before you enter someone elses house you can put her down outside and say "go potty". Once they understand the command they will go if they have to or try even if they don't.
Posting Rules

You may not post new threads

You may not post replies

You may not post attachments

You may not edit your posts

---

HTML code is Off

---