Join Date: Jan 2009
Posts: 40
Submit Photo: 0
Photo Submissions 0 Times in 0 Posts
Meepo is here!
---
I picked up Meepo from the breeder Thursday night and took Friday off work to get him settled in. He is the sweetest little thing, loves to snuggle with me.

Unfortunately, I don't have a camera yet (ordered one on Amazon today) so no updated pictures. He is so precious and fluffy. He has quite a roguish look to him.

Any advice on what to do about carsickness? We brought him to see some of our friends on Friday and he threw up every time he was in the car.

He is also very indifferent to the treats that the breeder sent home to him. I'm not sure how to go about training him. I tried giving him little pieces of hotdog too and he wasn't excited about that either. He responds really well to praise and affection, and he'll drop any toy or any treat to come be petted. But I praise and pet him so much it's not a very unique reward for training.

I am so excited! I'll take tons of pictures as soon as my camera arrives!
Senior Member
Join Date: Jun 2008
Location: Olympia, Wa.
Posts: 1,477
Submit Photo: 0
Photo Submissions 6 Times in 6 Posts
Yay!! I can't wait to see new pictures of Meepo!
I can't help with the car sickness sorry.
Todd didn't really like treats at first either.
I found out that cheese (especially mozzarella) is something that he did respond to. Now he loves any real meat treat but he won't even try to eat most dog bones or dog treats.
Cheese is still his favorite bribe/training food.
Have fun with your new puppy.
---
Eva, Mom to Todd....2 year old short hair Havanese
Senior Member
Join Date: Apr 2007
Location: Long Island, New York
Posts: 8,941
Submit Photo: 3
Photo Submissions 41 Times in 25 Posts
Breanna,

I'm so excited for you. I can't wait to see picures of your litle Meepo. Don't worry about these first few days. Everything is new for him. You'll find your routine with him and what works. I use Bil-Jac Liver Treats and all my dogs love them. The boys only get them when they're getting their baths and grooming so they know it's a special treat.

I don't know what to tell you about carsickness, but other here will. Milo gets carsick sometimes when he's nervous so I usually put a towel in his car seat. Just enjoy the moment and all the cute and wonderful things he does.
---
<b>Just Milo and me, and . . . </b>Bailey makes three . . . until Ruby said, "hey, what about me?"
Geri, Milo, Bailey and HRH Princess Ruby Tuesday
If you're thinking of getting a puppy, click here
http://www.photoshow.com/watch/YK8AH4rw
Renee
Join Date: Sep 2008
Location: Saint Louis, MO
Posts: 1,217
Submit Photo: 1
Photo Nominations 1 Time in 1 Post
Jeanne
Join Date: Mar 2007
Location: SF Bay Area
Posts: 2,622
Submit Photo: 2
Photo Submissions 3 Times in 3 Posts
Congratulations on Meepo coming to his forever home! Don't worry about treat likes and dislikes this early. Like Geri said, everything is new, he's bound to be a little nervous, and he'll settle down in a few days. After he's settled in you can figure out what works.

As far as car sickness, often they grow out of it. My first Hav had it pretty bad when we first got her. After frequent very short distance drives to fun things, she eventually got over it. The key is very short distance drives at first. However, there are some Havs that never seem to outgrow it. There are several on this Forum who can give you advice on how they work with it.

Looking forward to lots of pictures of your puppy!
---
Jeanne (Mom to Maddie)
Kubrick & Hitchcock's Mom
Join Date: Apr 2007
Location: New York, NY
Posts: 7,774
Submit Photo: 1
Photo Submissions 33 Times in 24 Posts
Congrats on Meepo! Can't wait for pics! I agree with Geri and Jeanne about the treats thing... Kubrick refused treats for about a week after he arrived, though I found he would always say yes to cheese so you can try something like that to see if Meepo will take it to aid you in training.
---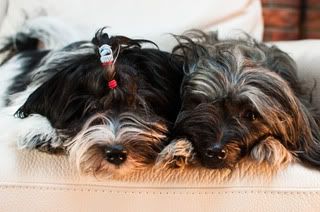 Visit
my blog

-----
Check out my
photos
-----
Photography (pets, people, weddings) -
TripleC Photography
Amanda
Join Date: Nov 2006
Location: South Carolina
Posts: 9,576
Submit Photo: 2
Photo Submissions 31 Times in 22 Posts
Congrats, I can't wait to see pics!
I think you will get a wide variety of responses on the car sickness. Dash went thru a drool period but what helped was a lot of short and fun car trips. He eventually learned that the car is a fun place and I had to do it quickly as after getting him in 2 months, we drove across country twice. Now he just chills out in the car
You may have a picky eater on your hands and just have to see what he will like as far as treats go but you can also use praise. Yesterday in the backyard playing with Dash we did some training and his reward was me letting him play with a stick (I supervised!) But he was way more excited for that than food!
Amanda
Senior Member
Join Date: Nov 2006
Location: New Jersey
Posts: 9,794
Submit Photo: 2
Photo Submissions 28 Times in 20 Posts
Welcome home Meepo!!!!!! I cant wait for your camera to come!!

Dont feel bad, all three of my guys came home with car sickness, two outgrew it, but my Logan still has it. We have tried benedryl, rescue remedy, bonine, and Cerenia. We just found that we didnt take him out much. at 2 years old he seems to be doing better.
---
Lily, Lexi ,Logan, Laila & Lizzie's Mom
www.HillsboroughHavanese.com
(Gigi, Lucas, Dugan, Madeline,Reo,Alvin, Lucky, Lukey, Punch, Colby & Ben-(we will always Love you!!)
and Murphy & Gracie too!
Join Date: May 2008
Location: Cumming, GA
Posts: 6,989
Submit Photo: 5
Photo Submissions 22 Times in 21 Posts
Congrats! Scooter does better on long trips but drools a lot on short trips so I can't help with advice there. Can't wait to see photos!!!
---
Ann-Scooter, Murphy, & Gracie's Mom
Sharlene
Join Date: Dec 2008
Location: South Carolina
Posts: 3,098
Submit Photo: 3
Photo Submissions 9 Times in 8 Posts
Congratulations !!! Can't wait to see pictures of Meepo. Sounds like a wonderful little guy.
---
Sharlene, Evye & Bentley's Mom (Taylor too)
Posting Rules

You may not post new threads

You may not post replies

You may not post attachments

You may not edit your posts

---

HTML code is Off

---